Have you ever considered checking out the team spirit of your software vendor before hiring them? Working with professionals who care about the success of the team as well as of their own makes a huge difference. While it is true that some jobs are better done alone, in most cases, it is the team spirit of the company that plays a vital and decisive role in the smooth performance and success of a single software developer or the whole software development team.
A successful software development project requires on collaborative efforts, team spirit, and motivation to achieve project objectives. It explains the importance of team friendliness to thrive as a cohesive unit.
In software outsourcing companies, software developers and other IT professionals function the best when:
They work for a friendly software development company that is open to feedback.
They work in a team that encourages collaboration and dialog, so everyone has a chance to elevate.
The software outsourcing company supports the willingness of its employees to gain new skills or change fields of operation.
Team leaders and superiors genuinely care about the professional development of their employees and make an effort to contribute to it.
The software development company regularly improves work conditions and reviews the salaries
Mutual trust, respect, and loyalty are the foundations of the software development team.
Team members are willing to walk alongside through the ups and downs of their career ladder.
Companies that follow these simple steps are friendly software development firms with a high team spirit. Otherwise, the team collaboration would have a foundation that can be easy to break.
All of us have experienced a confidence and self-esteem crisis at some point in our lives, which has had a direct negative impact on our work performance. Most of us can recall two companies or teams that made a significant difference in our personal and professional lives:
A company that pushed us to look for a team that has a friendly, family-like atmosphere and made us realize how important this is.
A company with a strong motto and team spirit, demonstrating what it means to work as part of a team.
The latter will always be remembered as the gateway to our establishment as a strong, skilled, stress-resistant, and generally happy employee. A software engineer or other professional who has worked in an unhealthy working environment understands how important it is to choose a software development company with a healthy, friendly, and family-like team and truly cares about the well-being and satisfaction of its employees. It is basically the guarantor of the quality of their work.
At CodeRiders, we are a software development team, which recognizes that people are the most valuable asset in a successful company. Employees must feel appreciated and recognized to be motivated to work harder and believe that their efforts can make a difference. Team CodeRiders consists of software engineers, technology experts, and IT enthusiasts who work hard to create robust and high-quality products for our clients. We are first and foremost close friends and/or family members, united by a common goal: to build simple yet powerful systems using cutting-edge technology and innovation to automate business processes.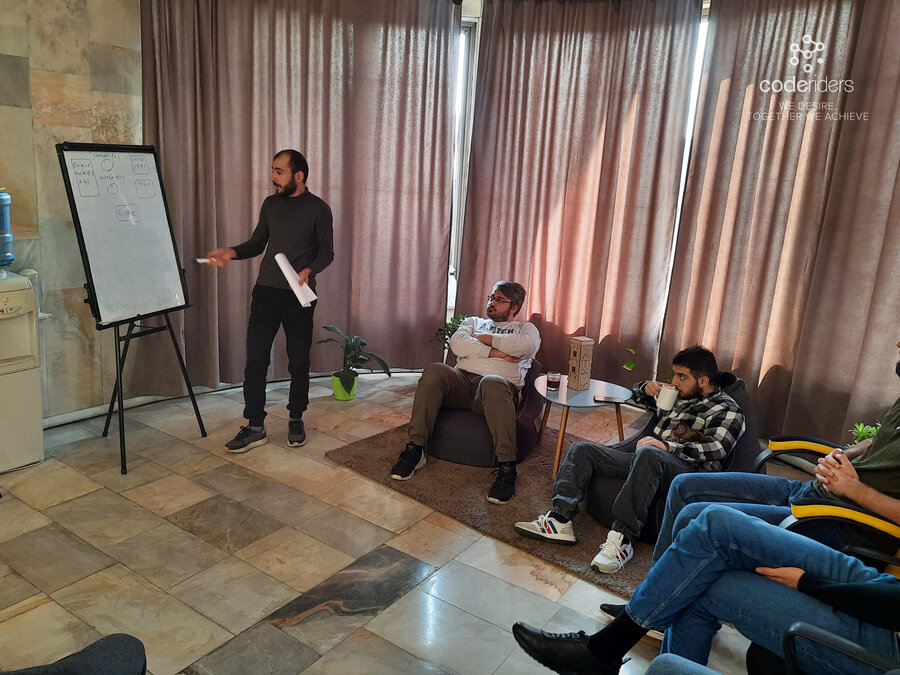 Our vision is straightforward: time is precious, automation should save it. Our motto is inspiring: we desire, together we achieve! As a software development company, we value excellence, genuine care, and, of course, team spirit.
Strong teams, on the other hand, are not formed by chance! CodeRiders was not either. Our team members all have unique personalities, and it is our combined efforts and strong desire to help us stand out among other Armenian software development companies.
Let's go over some statistics that prove the importance of team spirit in a company when selecting your next software development company.
According to the article, "Employee Engagement & Loyalty Statistics: The Ultimate Collection" by the leading employee discount network in America, Access Perks:
Compared to 28% of employees who said their firm was good at acting on feedback, 44% of employees who said their company was terrible at acting on feedback plan to look for a new job.
90% of employees indicated they are more inclined to stay at a company that listens to and acts on their suggestions.
Lonely workers are more than twice as likely as non-lonely workers to consider abandoning their jobs.
74% of respondents say they would not be more likely to leave their current job if their best friend did.
According to 32 million LinkedIn profiles, employees who feel empowered, valued, and take pride in the fact that they are making a difference are 35% more likely to stay on board than those who do not.
Why Is It Important to Cooperate with a Software Outsourcing Company With a Strong Team Spirit?
1. Teamwork fosters mutual trust and confidence
"It is true that the best and quickest way to succeed is to help others succeed." Napoleon Hill
Showing "we" in the team rather than "I" is a powerful motivator for open and honest communication. It makes the team responsible for the quality of the work rather than playing the blame game.
Understandably, not everyone is a team player, but it is a soft skill that is critical for improving individual and team success. Even the least communicative employee may develop interpersonal communication skills by working in a company that values friendly employee relations. It fosters relationships and opens up new horizons and opportunities. Teams built on trust assist one another, fill in the weak points and strengthen the strong points of each other. We are all aware that working in such teams accelerates professional self-improvement and is critical to the success of every single project.
In the world of software development, for example, transferring from junior software developer to mid-level, or from mid-level to senior, is much easier and faster when you work in a software development company with a friendly and family-like atmosphere.
2. Team spirit improves the performance of your software development project
Collective performance, without a doubt, ensures the success of a software development project. In a non-collaborative team, the failure of even a single team member will affect the quality of your project. As a result, working in a team willing to get to know each other and form bonds outside of work is expected to produce better results. It is critical to find a software outsourcing company that emphasizes the value of team spirit and friendship.
We already know that a strong sense of teamwork motivates employees and fosters workplace synergy. Team spirit equates to emotional attachment, shared beliefs and goals, and encouragement, all of which contribute to workplace synergy.
At CodeRiders, we place a high value on our employee satisfaction rate. We hold meetings at least once a week, ask questions about the working conditions of our employees, create anonymous polls, work to correct flaws (if any), and constantly organize team-building activities.
3. Team spirit aids in the reduction of misunderstandings among team members
We all may have felt dissatisfied with one of our coworkers' actions at some point in our career. The question is, "How did we deal with this?" Colleagues who genuinely care about one another do not focus on their egos. They are open to discussing issues and are eager to find a solution that benefits everyone in the team and adds to the project's success.
On the other hand, good friends are not greedy in sharing newly acquired skills with their colleagues; they do not hide any information and gossip, all of which are major killers of successful communication.
Transparent communication is a must in our software development team. If the team members do not know how to communicate with one another, how would they handle this with the client? In CodeRiders, if one of us is upset, it will be cleared out immediately. In the meantime, we aim to raise the awareness and enhance the reputation of our software developers and IT professionals, proving that everyone is a qualified professional and a guru in their domain.
A highly-capable, close-knit team is required to provide excellent customer service. It is a win-win situation in this case. This way both the employees and the company get a reputation as dependable and high-quality service providers.
4. Contented employees are healthier
Stress is a health detriment. Being stressed impairs the quality and speed with which employees perform. Meanwhile, an unpleasant atmosphere in the team constantly evokes negative emotions that block the optimism in the workplace. While no one is immune to stress and negative emotions, stress at work adds fuel to the fire.
If your employees have personal problems but are happy at work, the latter will help and motivate them to solve their personal problems more quickly and easily, and vice versa. Experiencing difficulties in both areas creates complete chaos.
5. Team spirit increases creativity and uncovers new talents within employees
When colleagues are in a friendly team environment, they are more open to discussing various issues and expressing their thoughts. They are not afraid of being misunderstood by their team members, being picked on, or simply feeling stupid. After all, in high-team-spirit software development companies, colleagues are first of all friends, and they will not judge each other based on a silly mistake or a hastily formed opinion.
Open and thorough discussions yield great ideas and discover new talents. Assigning different tasks, developing group projects, and holding brainstorming sessions are some ways to encourage team creativity, but it works best when employees get along. A safe working environment, friendly relations, and motivated coworkers are all factors that contribute to job success and the birth of the most exciting, awesome ideas and hidden talents.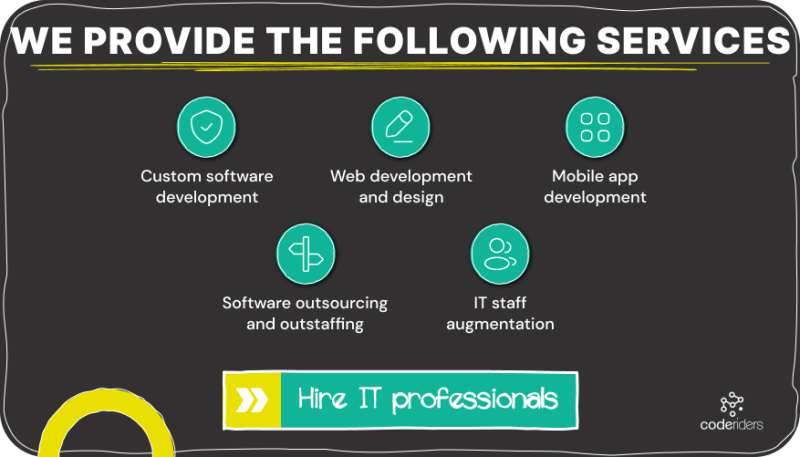 How to Spot on a Friendly and Family-Like Software Development Company?
Choosing a family-like bespoke software development team is an easy and challenging process at the same time. It takes time, effort, and consideration to figure out whether a company truly values teamwork or if it is just a marketing trick. Finding a friendly software development team, on the other hand, is not too difficult if you know these simple tips beforehand:
A friendly software development company organizes after-work drinks and activities. For example, our software development team at CodeRiders enjoys after-work small gatherings. We could gather around a glass of wine or a sweet cake. We also have a separate room for PlayStation games and movie nights. Besides, our employees enjoy taking short breaks throughout the day. It increases their productivity and clears their minds. We also have a billiard room and a table football/soccer area.
A friendly software development team organizes outside-of-the-office team-building activities. One of the latest visits of CodeRiders was to the northern province of Armenia, Shirak. We visited the second-largest town and cultural center of Armenia, Gyumri, and Trchkan waterfall - the highest waterfall in Armenia.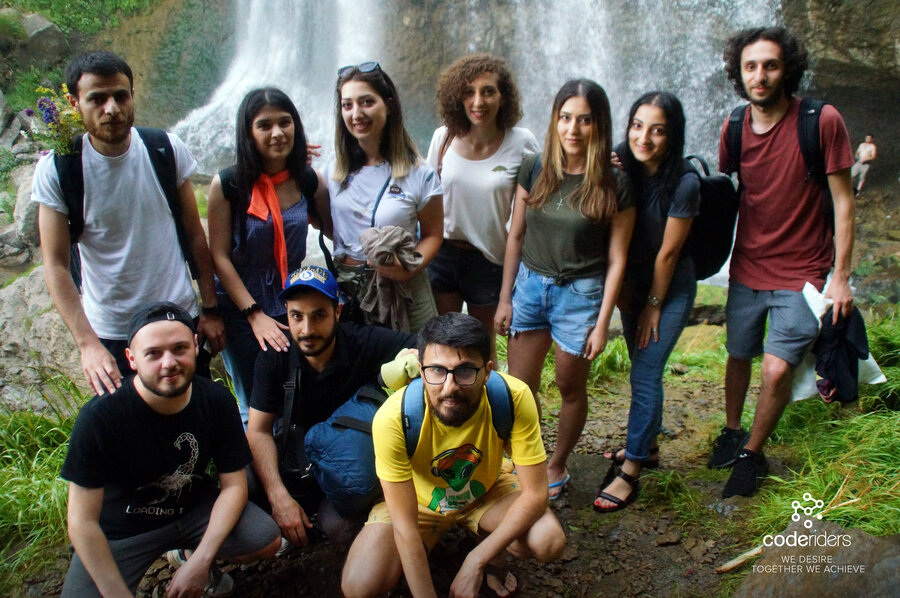 Friendly software outsourcing teams find mutual hobbies to spend more time together. For example, our software engineers are huge football fans (soccer). They enjoy playing football together, in addition to following their favorite team's leagues. On Thursdays, they have a special menu. It is a game day for them.
Remote working does not prevent friendly software development companies from having a good time. Although CodeRiders is flexible enough to offer their employees remote or in-house working conditions, we still make sure our remote workers are not missed out. For example, we may organize quick remote coffee breaks and gather together for special days like movie nights, employee birthdays, or other holidays.
In conclusion, a team that shares values will stick together through both prospering times and hardships. A custom software development company with a strong work ethic and team spirit delivers next-generation software solutions based on united efforts and motivation. Such companies also have the highest-quality software engineers and other IT professionals in the market.
Having
development
needs?
CodeRiders will address your web and mobile development challenges by creating custom software, helping with outsourcing services, or just consulting on your software development requirements.
Explore services