A software outsourcing company can either make or break your business. Software outsourcing is extremely beneficial indeed. However, choosing the right software vendor that can hold an effective and simple software development process or software development lifecycle (SDLC) is equally crucial.
There are several approaches to the software development process and each depends on the type of co-operation or clients' requirements. At CodeRiders, we have defined the most effective software outsourcing engagement models and easily suggest one of them to our clients after discussing their expectations out of the project. We are also open to custom or hybrid cooperation models suggested by the clients.
In this article, we will unpack all the secrets of the effective and productive software outsourcing process by CodeRiders. We will walk you through our work environment and atmosphere in our team, engagement models, reporting process, everyday communication, project management, project results, and deliverables, etc. Continue reading if you want to understand how software companies work.
What is the software development process or software development lifecycle (SDLC)?
The software development process or SDLC is the process of organizing software development work in a way that is effective and fruitful for all parties. The overall software outsourcing process is divided into smaller steps, milestones, or sub-processes to improve product and project management and design.
Before diving in, let's give a short shout-out to CodeRiders software development company and its story.
Who is CodeRiders Software Development Company?
CodeRiders is a software development company based in Armenia. The company was initially established as a software development school back in 2013. In just a year, we gave more than 800 alumni, 15 out of which have become CodeRiders' current developers, and formed CodeRiders software outsourcing company in 2014.
We are a team of tech enthusiasts. Our company consists of back-end, front-end, and full-stack software engineers of different seniorities, designers, project managers, support engineers, etc. We believe that time is precious and automation should save it. Hence, we strive to help our clients automate their businesses in a technically easy and secure way.
So far, we have delivered 300+ successfully completed projects, worked with 30+ clients across the world. The products we have developed have more than 180K users across the world. We have expertise in:
CRM systems,
E-commerce and retail software,
Mobile applications, hybrid mobile application development, progressive web applications,
EdTech software development,
HealthTech software development,
Building apps and software for the media and entertainment industry,
FinTech software development,
Enterprise (ERP) software development, and more.
Get more information about our software solutions.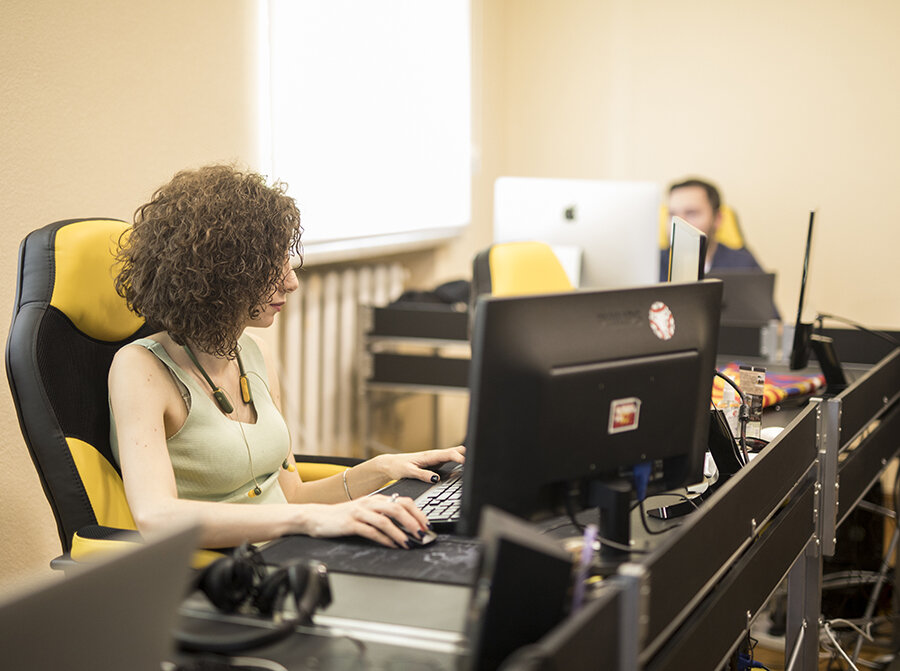 Image source: https://itel.am/am/news/12931
We have been recognized by a number of well-known and respectable directories and awards as a trustworthy software outsourcing firm. A few of them are:
What Makes Team CodeRiders Stand Out
Team spirit and the working atmosphere
We strongly believe that the quality of software development is directly connected with the inner communication and relations between software outsourcing team members. We value friendly communication and professionalism at work.
Most of our employees have family ties, are childhood or university friends, and know each other's weak and strong points very well. This helps our team deliver a high-quality product in minimum time.
As CodeRiders was initially established as a software development school, we have a huge talent pool to choose from. Our alumni are familiar with each other, thus we are flexible in providing skilled developers upon request who will quickly integrate into our team.
No language barrier
We have an internationally accepted working routine, speak fluently in multiple languages, and share business ties with people from various backgrounds and nations.
Many of our developers speak with the clients directly; hence, there is no language barrier. Moreover, most of them are fluent in both English and Russian. We also have two developers who speak French and Arabic as well.
High quality and affordable prices go hand in hand
The Armenian government is very considerate regarding the further development of the Information Technology industry in the country. IT companies are freed up from many taxes, have opportunities in taking part in various international exhibitions, and have access to free education. This has a direct positive impact on the market rates.
CodeRiders is not an exception as well. We are capable of constantly training our employees, making sure we are on the loop of all the novelties in the international software development industry. In the meantime, we are flexible enough to suggest affordable rates.
There are a number of advantages of choosing Armenian software outsourcing companies. If you have ever been wondering which country is the best for software outsourcing, we recommend checking the article about the pros and cons of software outsourcing to Armenia. You will learn about the most important tips before choosing the next country for software outsourcing.
Constant reporting and daily communication
We easily integrate into new business co-operation styles and hold successful business partnerships. In general, Armenians have no specific mentality that makes it hard to work with the international market. We are flexible enough to adapt to any new circumstances.
Our business development team makes sure to make each and every question or information clear before giving a start to the co-operation. Once the partnership starts, usually a project manager is dedicated to holding the ongoing communication between you and CodeRiders developers.
There may be situations when the client has a dedicated project manager from their side, or want to have direct communication with the developers. In cases like this, we give full access to our clients to talk directly to our developers and manage the process by themselves.
Our team pays great attention to task reporting. We agree on the frequency of reporting with you beforehand. So, whether the reporting will be done daily, weekly, bi-weekly, or monthly, depends on your needs. We are also open to holding daily meetings with you to make sure we are on the same page and each request is addressed correctly.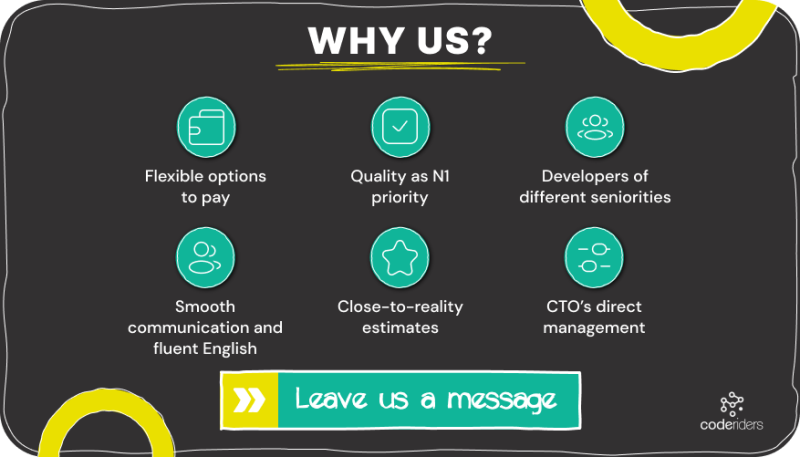 Milestone-based deliverables
We divide your whole project into several milestones and work on each of them one by one. Each of the milestones has its tasks, requirements, and deadlines. Once the milestone is completed, we report to you about our progress and keep you updated about any issues or concerns if there are any. As soon as we get approval from you, we move on to the next milestone.
The milestone-based approach helps both sides. We make sure that we are on the same page as your requirements, and you make sure that so far what we have delivered meets your criteria.
Flexible payment models
Our flexible approach is what our clients like the most. Because payments are one of the main discussable topics before starting a partnership, we made it simple for you to choose the most convenient model for you.
The main two payment approaches are Fixed Price and Time & Material models. Fixed Price is ideal when there is a full scope of work (SOW) or technical documentation. All we have to do is look through the requirements and provide the client with the time and budget estimates. If the SOW is not full, we can provide only rough estimates that are prone to be changed during the development.
The time & Material payment model is ideal when there is no documentation, or when the project is going to have new features, functionalities, and changes during the development. In cases like this, we provide either hourly-based or monthly-based quotes for each resource. They work on the required tasks and you pay only for the hours worked.
We also have the Team Augmentation engagement model that is ideal for projects that require more than one resource. We are able to provide our clients with web and mobile developers, designers, project managers, QA specialists, etc. In cases like this, the project cost depends on the team size, professionals' seniority level, project duration, etc.
As we are flexible in payment models, we are also open to any custom or hybrid engagement models suggested by you. We can combine some of the features of different cooperation models and get a new hybrid one that can work specifically for you.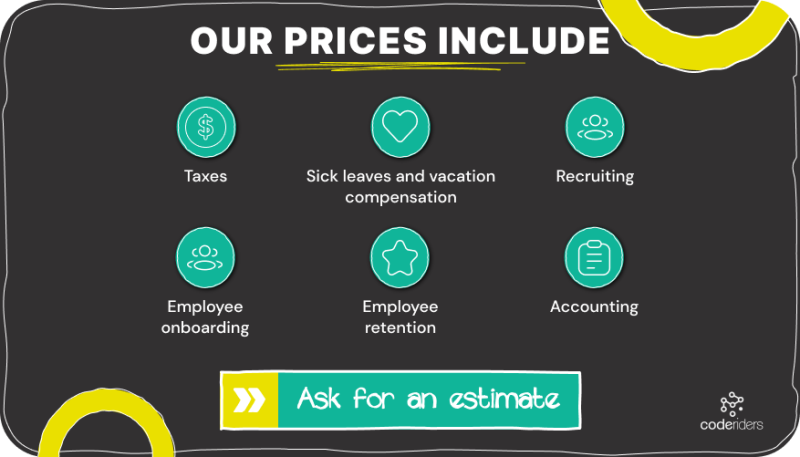 Clients' appreciation words
We value long-term relationships with our clients, so our end goal is always our customers' positive words about their software project delivery, quality, security, and sustainability. Receiving their appreciation words is what makes us happy and motivated to continue what we do. You can read our testimonials and case studies on our website. We also have reviews on 3rd party popular directories such as G2, Extract, and Clutch.
Below is one of the reviews from our long-lasting partnerships. An Australian company Dwel Online collaborated with us to build a Private family cloud software for lifestyle management. Here is the review we received from the project leader Al Segian.
"CodeRiders are the official development team of the project Dwel. For the past two years, they've been working diligently on our project, displaying excellent skills, great communication, and the ability to deliver the exact desired results. I highly recommend the team for any complex, multi-faceted modern application development projects and look forward to our continued association."
What Does a Typical Software Development Process with CodeRiders Look Like?
As we have already mentioned, a successful SDLC should be broken down into smaller stages or milestones. In this section, we will present the separate stages of the software development lifecycle with a real example from CodeRiders.
Software development process with CodeRiders #1
Software development consultation or requirement analysis
At CodeRiders, we are open to free software development consultations. Moreover, we can have multiple calls and discussions to understand what you need and if our services and solutions can truly help you. Each of our partnerships starts with clear-cut confidence that we are 100% capable of providing the necessary software development services.
When we get a quote or call request we usually get back to you within one working day and appoint a meeting. During the meeting, we have in-detail discussions about your expectations and needs, evaluate your problem, and suggest our software solutions. To give concise time and cost estimates, we usually require technical documentation (TD), a scope of work (SOW) document, or something similar.
Software development process with CodeRiders #2
Software development solution
After thoroughly examining your SOW document, we appoint a discussion with you and come up with the best solution for you. We specify which professionals you will need (back-end developers, front-end developers, UI/UX designers, project managers, QA specialists, etc.).
For example, if you want a crystal-clear understanding of the planning, organizing, and directing the completion of each sub-project, we will offer you a project manager as well. On the other hand, if you have a dedicated project manager from your side, we suggest which professionals with technical backgrounds would be the most helpful for your project.
During this stage, we will also hold discussions about the best possible software outsourcing engagement models with you and agree on time and cost estimates.
We love Agile Software Development methodology. Agile methodology is based on iterative development. It helps discover the requirements and develop software solutions through a collaborative effort of self-organizing, cross-functional teams, and their end-users.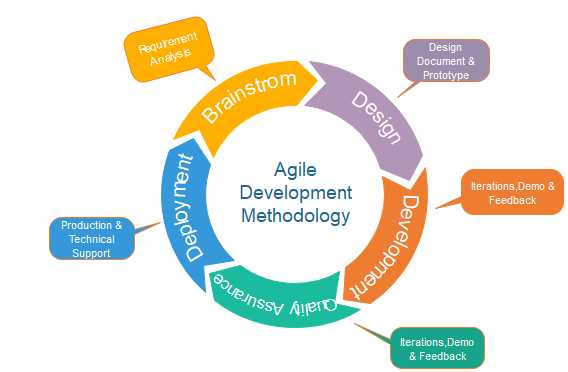 Software development process with CodeRiders #3
Software architecture and design
After agreeing on the software development process and discussing each detail, we transfer from talking to acting. We are open to sign a non-disclosure agreement (NDA) with you if there is a need, or just start the partnership.
The architecture and design stage defines what system requirements are needed and is concentrated on the entire system fundamentals. The results of this stage are directly imputed into the next stage. We work on the architecture and database of the whole system, which includes all the components, their interaction with each other, the environment in which they operate, and the principles that will be used to design the software.
This stage is the baseline of the whole project. All the other work highly relies on the architecture and database design parts. It is the foundation of the whole system and is very similar to house building. You cannot skip or quickly complete the foundation part, otherwise, the house will have a weak basis and the walls may easily get destroyed due to a storm or other natural phenomenon.
This is why it is of critical importance to pay great attention to the architecture and design beforehand. Many businesses do not evaluate the importance of this part and experience prolonged software development.
While the software architecture is being done, the UI/UX professionals simultaneously work on the software design part.
If you need in-detail information about CodeRiders solution to the software architecture process, make sure to leave us a quick message.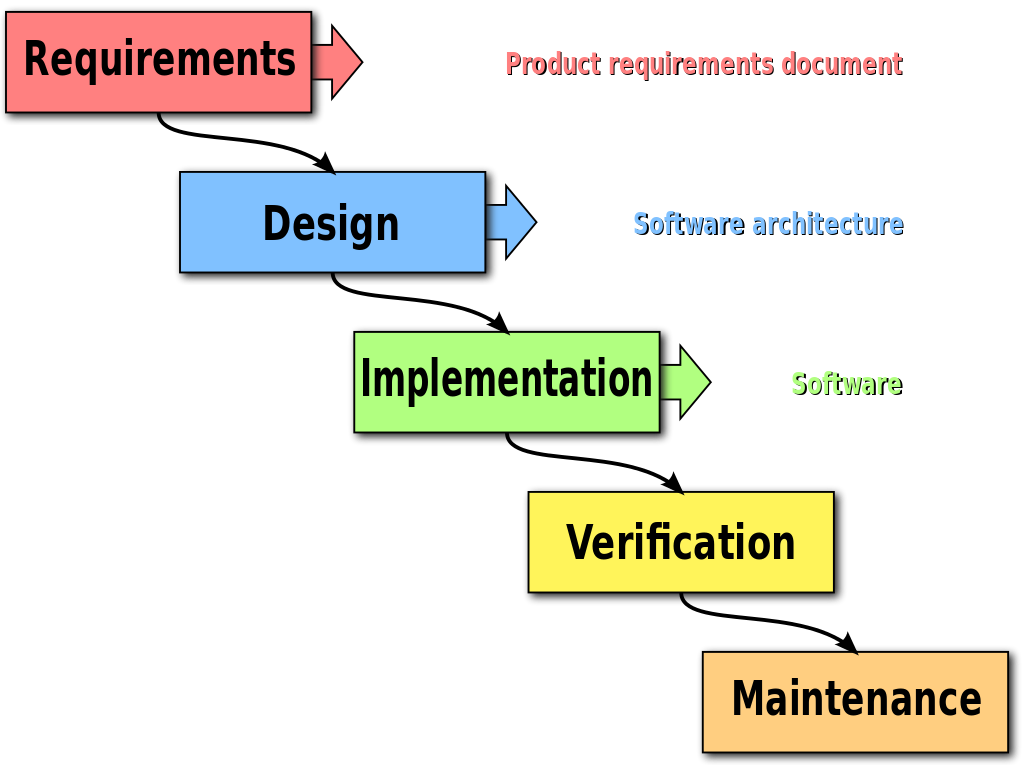 Software development process with CodeRiders #4
Implementation and coding
At this stage, our professionals start the front-end and back-end coding, while our project managers provide you with regular reports. We organize daily, weakly, or monthly calls with you, during which we explain all the work we did and present the upcoming tasks, also sharing our concerns or suggestions if any.
The developers are always available on business management platforms (like Slack, Trello, Skype, Jira, or any other platform you prefer) and answer all your questions. The code is delivered within the deadlines with high quality. You are not expected to hire a chief technology officer as anyways in our team all of our employees support each other, including the CTO.
Software development process with CodeRiders #5
Code testing, maintenance, and support
At this stage, we test the code and make sure it meets all your requirements. Expect various kinds of testing such as system testing, unit testing, acceptance testing, and integration testing.
Although, these are clearly defined stages of SDLC, at CodeRiders we are flexible enough to make some changes along the way if something happens during the development process. We are always happy to assist and help our clients after the project ends. We take responsibility of our work, and if you need further maintenance and support, we go on with the project.
Final Thoughts
Hiring the right software outsourcing team guarantees that you will get all the advantages of offshore software development. Take your time to review and speak to several software outsourcing companies and choose the one that is most suitable for you both with its working style, approach to software development lifecycle, and quality services.
At CodeRiders, our biggest aim is to ensure a clear-cut and successful collaboration with our clients before, during, and after the software development process. It is important to know how software companies work and how to find the right software outsourcing firm that initially thinks of providing high-quality software development services rather than making money.
We wish you the best of luck, and we are always ready to discuss your software development requirements.
Having
development
needs?
CodeRiders will address your web and mobile development challenges by creating custom software, helping with outsourcing services, or just consulting on your software development requirements.
Explore services