The web development industry is saturated with hundreds of companies. This can be good or bad. Good because it offers people a large selection of companies providing different quality services. Bad because it can make it extremely difficult to find a reputable software development company to hire.
That is why Techreviewer is here, a research and analytics company that creates lists of the top performers in a given industry. This way people do not have to struggle to find software outsourcing firms that offer great services. Techreviewer puts them all into a single list that is easy to find. Lately, CodeRiders software development company has been included among the top PHP development companies in the world by Techreviewer. The list includes 100+ software companies and CodeRiders has made it in the top 5.
Why is PHP still a relevant and key tech language?
According to W3Techs, 78.9% of all websites use PHP with a known server-side programming language. So, it turns out, that about 8 out of 10 websites use PHP in one way or another. In other words, PHP is so extremely popular on the Internet that even if it dies now, the support of all those big websites developed in PHP will ensure its long-time work and influence.
Top web giants have been developed and still use PHP, such as Facebook, Wikipedia, Slack, Tumblr, WordPress, etc.
But how does Techreviewer know these companies are the best out there?
Techreviewer has a difficult list of requirements that companies must all check off when they review them and after that, all companies are compared against each other to see who the best is. Techreviewer also dives deep into various markets and reviews various companies despite the size, so all companies are compared fairly.
Top values software outsourcing firms should have to be recognized by TechReviewer
Some of Techreviewer's criteria include:
Brand awareness,
Reputation,
Customer reviews,
Services offered,
Social activity.
"CodeRiders has proved themselves exceptionally well and are expected to continue to make a name for themselves in the international IT market. In the years to come, CodeRiders is absolutely a company to keep an eye on. That is to say, it is highly sought after to land a spot on Techreviewer's list and today CodeRiders' software developers and other tech specialists have earned TechReviewer's trust and fairly got their spot on Top PHP Developers". a statement by Techreveiwer

More about Techreviewer
Techreviewer helps multiple companies from various industries worldwide find the most suitable software vendors and get in contact with them. It acts as a bridge between software outsourcing firms and companies or individuals that need software solutions. It helps get proposals and estimates from the top software development companies in the world free of charge. Companies trust Techreviewer ratings and listings as:
Techreveiewer offers verified and updated information,
Makes a decision based on deep research and surveys.
Buyers prefer searching for vendors on Techreviewer as they have an opportunity to go over the full cycle of software development partner identification. First, you shortlist, analyze and then compare software outsourcing firms based on your specific project requirements and field of operation.
Techreviewer about CodeRiders
CodeRiders has been in the market for over a decade. Offering specialized services in the web development industry for consumers with specific needs.
CodeRiders was already a company that stood out but with this new approach, they have soared to the top of the market. With a waiting list of clients wanting to hire them and a reviews list of nothing but 5 stars. It is no surprise that CodeRiders has found its way into Techreviewer's list of Top PHP Developers.
Who are CodeRiders?
CodeRiders is an Armenia-based internationally recognized software development company. CodeRiders' dedicated software developers, designers, and IT specialists have been offering high-quality software solutions since 2014. CodeRiders' services include: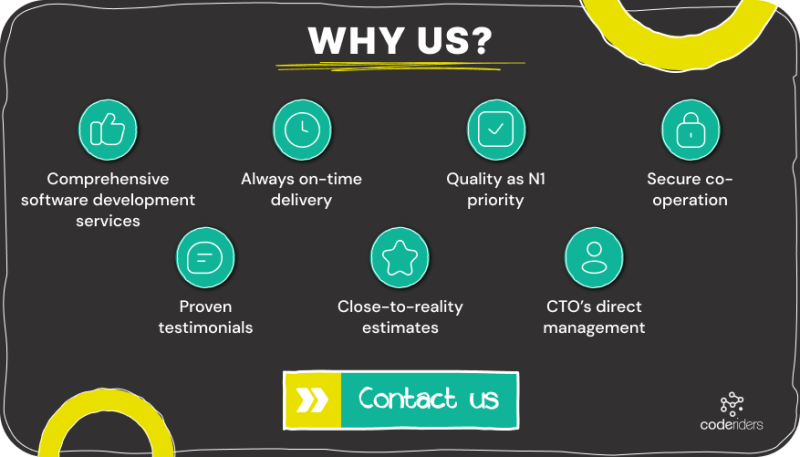 Our software outsourcing services and solutions are recognized by various high-profile influencer companies, directories, and awards. For instance,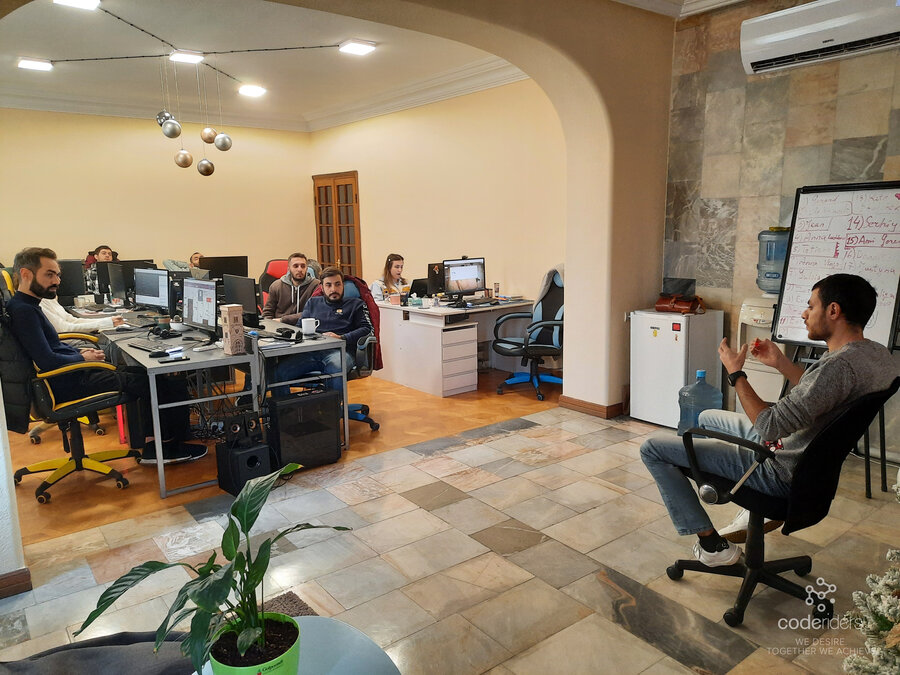 PHP/Laravel and JavaScript have been among CodeRiders' primary tech stack since their establishment date. The company eventually expanded its expertise up to the following tech languages, frameworks, and databases.
Back-end development
PHP, Laravel framework, Yii framework, Symfony framework, Zend framework, Codelgniter framework
Node.js, Express, Socket.io
C#, .Net
Python
RESTful API, LinkedIn API, Facebook API, Twitter API, AWS
Front-end development
JavaScript, JQuery, Vue.js, Angular 2+,
HTML5, CSS3,
Bootstrap 3, 4,
React.js. React native.
Hybrid mobile app development
Databases
MySQL,
MongoDB,
PostreSQL,
SQLite.
Other tech
Vagrant, Docker, Redis, Memcached, Apache, Linux, WAMP, LAMP, MEAN stack, SVN/Git.
Besides its high-quality software services, CodeRiders recognizes the importance of helping companies find the best software solution for them. We understand that our potential clients may be less familiar with the software outsourcing lifecycle and software solutions in general. So, our team works hard on helping non-tech professionals understand tech-related matters. For example, we publish white papers or guides,
We initiate multiple free consultations to help our potential clients understand what tech solutions are beneficial for them based on their company goals. We take into consideration the tech stack, features, and functions, number of software developers, and other IT professionals.
We run a blog and write articles about the most popular concerns of our clients as well as trends, and news in the international tech industry.
CodeRiders have completed numerous projects for companies from various industries worldwide.
We had clients from Europe, Asia, Australia, Northern America, and Africa.
The industries our software developers and other IT specialists worked for include:
EdTech or e-learning,
E-commerce,
PropTech,
Marketing and analytics,
Tourism,
Agriculture,
Finance,
Logistics,
Media and entertainment, and more.
Here are some reviews:


Armenia is a rapidly growing international tech hub
CodeRiders is an Armenia-based software development company that is a rapidly growing international tech hub. The country is famous for its outstanding quality of tech solutions, professional approach to the software outsourcing process, and affordable prices. You can hire qualified software developers in Armenia at average hourly rates of $30-60. This is extremely beneficial for international tech giants that have a local talent shortage and dramatically high software development rates. For example,
According to 2020 USA talent shortage statistics by ManpowerGroup, 69% of the USA employers are struggling to find appropriate remote software companies or engineers. Tech positions are included in the list of the "10 hardest roles to fill in the USA". In addition, currently, the average software developer's salary in the USA is about $107.000.
According to 2020 The Nordics talent shortage statistics by ManpowerGroup, Sweden is expected to face over 70.000 unfilled digital positions by 2022 replenishing 4% of the overall European digital skills shortage. Denmark is expected to come short of about 19,000 IT professionals.
Read more about why international tech giants hire software developers or software outsourcing companies from Armenia in our latest research.
To sum up, CodeRiders software development company is stunned to continuously be listed among the world's best software development companies by trustworthy tech awards and directories. Our company first started as a PHP and JavaScript software development firm eventually expanding its tech stuck to the leading web and mobile app development languages and frameworks. It is especially honor to find our software outsourcing firm among the world's best PHP development companies.
Having
development
needs?
CodeRiders will address your web and mobile development challenges by creating custom software, helping with outsourcing services, or just consulting on your software development requirements.
Explore services