People are thrilled to say au revoir to 2020. Many of us, look forward to the new year with new aspirations and faith in positive shifts. We, at CodeRiders software development house, are optimistic about new exciting events. On this pragmatic note, we want to sum up 2020 and recall our top 10 achievements this year.
Please don't hasten to scroll over this article, I've jotted down this article to be more informative with useful details and guidance about software development trends and IT predictions for 2021. I'll share our own experience and case studies, meantime give ideas for your business development plan.
So what are our 10 most significant achievements in 2020 as a custom software development house and how did we get here.
1. We became the most efficient software development company by TopDevelopers.co
It's always such a pleasure to be appreciated both by clients, notable directory, and review platforms of B2B IT service providers or well-respected, honorable awards. Luckily, we also had a chance to reap the fruits of success. One of CodeRiders' achievements was to be included in a press release of the most efficient software development companies by TopDevelopers.co. We want to thank TopDevelopers.co for the appreciation and we're all set for new accomplishments.
Throughout the scope of our 7 years of experience in the international custom software development industry, we've managed to work for multiple industries and never failed in providing quality services. Clients' satisfaction is our number one priority thus besides providing quality services we hold on to software development maintenance and support. We believe that time is precious and automation should save it. If you're looking for custom software development innovations in a particular industry, I suggest checking the below articles and subscribing to our blog for more interesting topics.
Besides learning about custom software development innovations, we'll also get to some IT predictions for the future.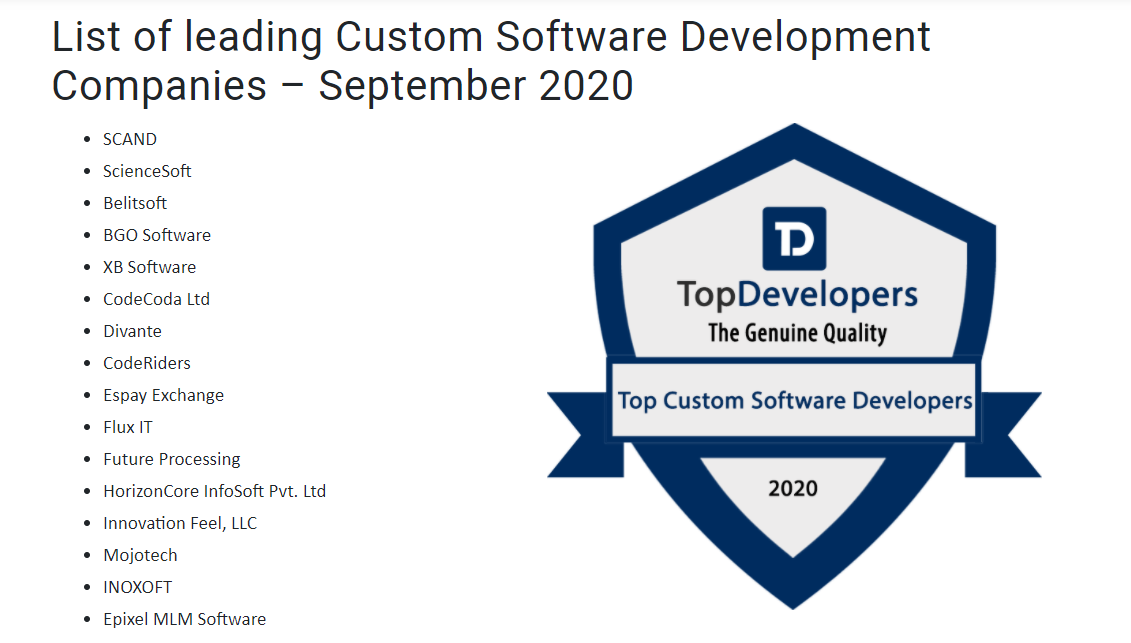 2. We are nominated for Global Startup awards
CodeRiders was honored to be awarded as "Best Software Development Partner" in 2019 by EuroAsian Startup Awards. Now it's time to take part in the Global Startup Awards which will take place virtually (due to the COVID-19 pandemic) at the beginning of 2021. We are nominated in the category of "People's Choice – Startup". To help us win the award, you can vote for us here, just by searching our name or choosing Armenia as a country (we are the only participant from Armenia).
The goal of EASA is to filter out the most efficient software development companies across the world, make a list of local industry game-changers and promote them towards their journey to international expansion. The selected companies are given a chance to enlarge their global network of experts, cooperates, media, and investors, meantime sustain custom software development trends. The regional finalists are automatically transferred to the Global Startup Awards which is the world's largest no-pitch, non-conference startup competition. It partners with globally recognized industry experts and investors such as Google and Microsoft.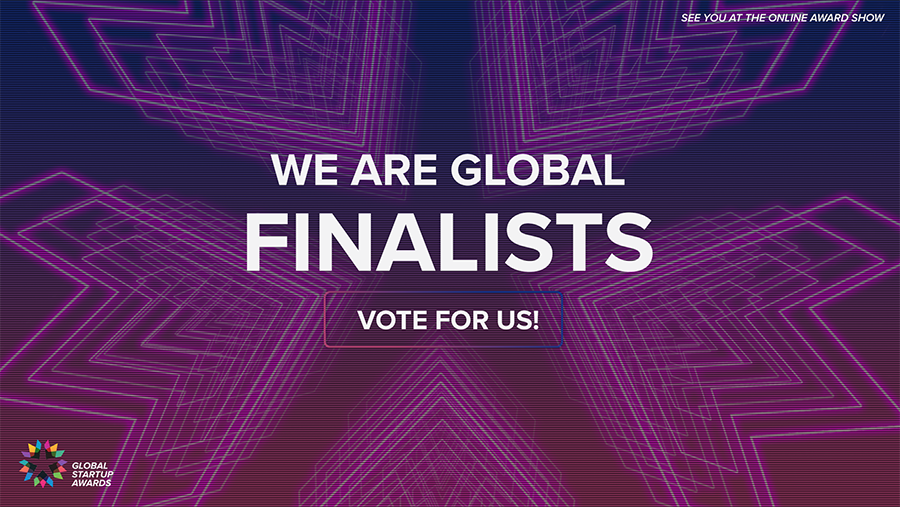 3. We went remote in March and created a combination of comfort and efficiency
Due to the widely spread COVID-19 pandemic and the massive lockdown, team CodeRiders went remote in March 2020. The atmosphere in our workplace has always been very comfy and friendly because besides being colleagues, all the team members are closely connected (childhood friends, family members, etc.), thus it was a little hard for the staff to go remote. Nevertheless, this didn't disturb the strict discipline and serious approach to the job. Moreover, we filed a business development plan and an initial IT prediction plan that helped us operate productively during remote working.
On the other hand, if we look at the situation from the professional point of view, shifting to remote working wasn't huge stress for the staff. The thing is we're based in Armenia, but throughout the 7 years of our professional experience, we only worked for the international market. We worked with the USA, Canada, Australia, Europe, the Middle East, and Central Asia. We communicated with all of our partners remotely (sometimes traveled to meet them personally as well). We have been using various methodologies and tools like Trello, Agile, Slack, Kanban, and others, and always hold daily/weekly calls for reporting.
Due to our inner tactics of staff regulation, we attain productive partnership. For more information about effective co-operations with CodeRiders software development company book a quick consultation with our professionals.
As staff communication and a friendly atmosphere are of a high priority for us, we sometimes try to fill in the gap of physical distance by video calls, remote chitchatting, and coffee breaks. There are 2 assets that I think make CodeRiders software development house different from other companies.
First, all the team members are close friends (even childhood), share family ties as well. Many professionals will doubt this working strategy with an argument of less discipline and unattained business development plan. The good thing is we deal with this quite well, and use it in our favor. All the team members share the same motto and passion for the company's prosperity. Not only do we manage to keep a strict routine, but we also remove the frigid approach to the company and its tasks, which sometimes becomes one of the serious hardships in the businesses.
CodeRiders software development company was initially established as a software development school. In just a year, the school gave more than 800 alumni, the best out of which have become today's medium and senior developers. Other students are successfully operating in the IT industry and are competent professionals. We still keep in touch with our alumni and have a large pool of experts. For example, in 2019, we welcomed one of our previous students to our team. So whenever there is a need for more professionals, we're capable of inviting qualified experts to our team or to work on a one-time specific project.
4. We gave a start to the development process of our application, which will enter the market next year
We are thrilled to announce the start of a new startup project which will make the drivers and car service providers' life easier. We can't wait to tell you more details about the application, but as it is still under development and is not in the market yet, we can't go too much into details. Wait for 2021 to learn more and be one of our first users!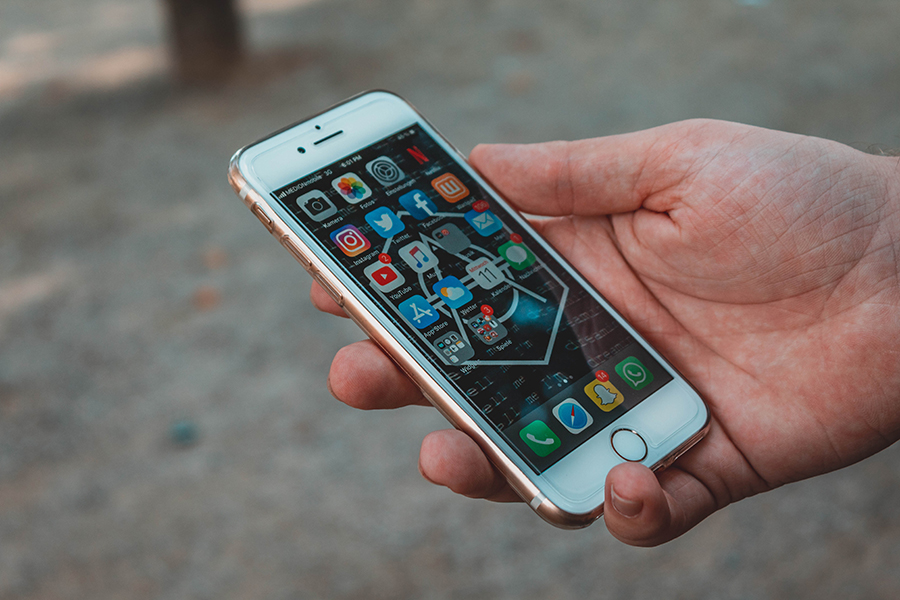 5. We started 2 new strategic partnerships and finished our long-lasting co-operation
In 2020, CodeRiders finished a large project for a Hong Kong-based English school. We built both mobile and web applications for the school. The app is built by a hybrid mobile app development methodology. It connects teachers, students, and parents, and is for internal use only. It has functionalities like:
Calendaring to schedule classes
Sorting the classes by student levels
Adding books, movies, dictionary words taught during the class to the specific student's database
Making quizzes based on the individual dictionary words and books (btw, the quiz part is a little bit gamified)
Assigning tasks for teachers
Writing individual reviews for students
Sending meeting appointment invitations to parents, etc.
Regarding our 2 new strategic partnerships, we're currently working on building an app that supports property rental and tenant support and a wealth management platform together with a banking application.
6. We updated and upgraded all our equipment and technical resources
We believe a smooth and successful business development plan should start with convenience and advanced technical equipment. So, we put much attention to this and in 2020 have updated and upgraded all our equipment and technical resources for our employees.
7. We created an internship opportunity for people who want to join our team
Although today we aren't organizing software development courses, the company never stopped its masterplan of providing training. We believe before welcoming new employees to our team, it's important to make sure that they're well informed and educated about our company, aim, motto, and business approach. We also believe that new, fresh professionals should have an opportunity to reach the top of their career"¤ So in spring we created an internship opportunity for those who are eager to enter the world of software development and have a passion to learn more and become the best of them.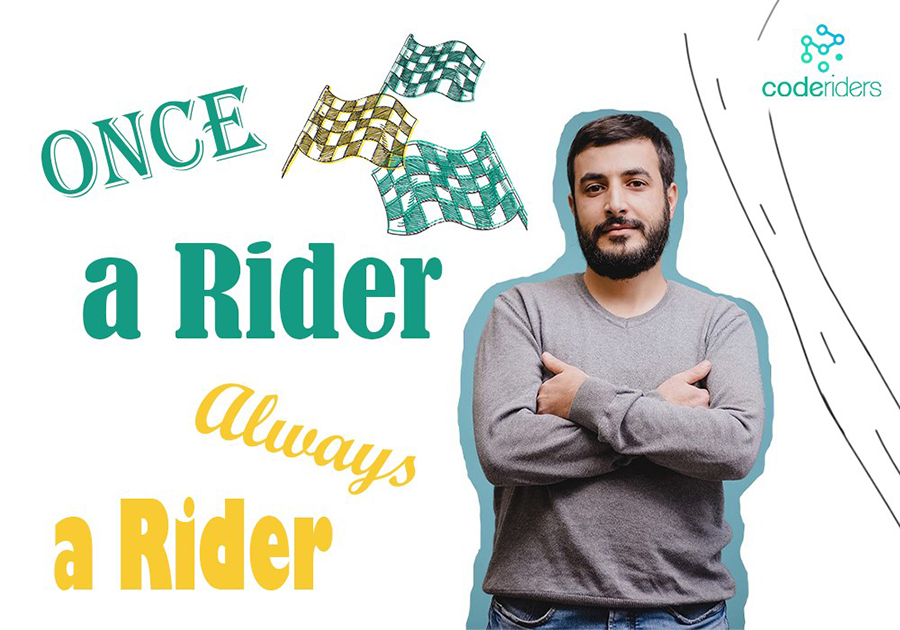 8. We welcomed 3 more employees to our friendly team and welcomed back one of our devoted teammates
The internship opportunity we created in spring helped us enlarge our team with new team members. So we are excited to welcome our new Riders to our team this year. In the meantime, the company's management and administration team does its best to make CodeRiders software development company "a hard-to-leave workspace". We were thrilled to welcome back our friend and a qualified developer, David, to our team.
9. We added Flutter, Dart, C#, .Net, React, and WordPress technologies to our core tech stack
While we always position ourselves as mainly a PHP, Laravel, and JavaScript oriented company, this year we did our best to enlarge our tech stack with new technologies and proudly add Flutter, Dart, C#, .Net, React, and WordPress. Our core tech stack, includes PHP, Laravel, JavaScript, MySQL, jQuery, Restful APIs, Angular, Ionic, Vue.js, Node.js, Python, etc. For the complete list please check our website. Below I'll give a quick recap on why we chose to add the below technologies to our tech-stack.
In 2020, we experienced tremendous growth in hybrid mobile application development. The problem is native mobile app development is for a specific app device. The 2 main ones include iOS and Android. This in its turn, causes some problems. Below is one of them, and make sure to check our article about the pros and cons of hybrid and native mobile application development for learning more.
Native mobile app development requires 2 different software development processes, one for IOS users and one for Android. As a result, it's basically like repeating the same working cycle twice. Meantime, more developers are needed to work separately on each process. Sometimes, various software development companies are being hired for these purposes. Thus, it's logical that native app development is more expensive. Especially if you're working with a time and material model, where developers work at an hourly rate. On the other hand, there is a scarcity of native app developers, which causes additional inconvenience and difficulties. Thus, to cope with the growing custom software development trends, we added Flutter, Dart to our main technologies, as well as continue using Ionic and Angular for hybrid app development.
10. We gave a start to animation videos about us
Besides boosting our blog, we decided to provide more useful and interactive content to our followers and clients. To make our customers' experience more entertaining we gave a start to animation videos about our routine and what it means to work at CodeRiders. In the upcoming 2021, we're planning to make short videos of our gurus as well where they'll share their experience and express their professional opinion about the pros and cons of specific technologies.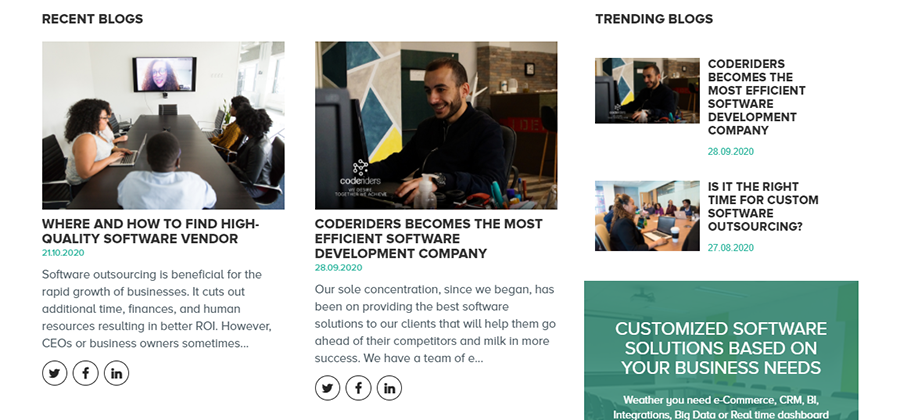 Bonus point. We boosted our blog and actively covered tech topics
We are proud of our content writing team which could successfully cover and boost trending topics and CodeRiders news on our blog. We're also planning to publish our analytics and business studies in the form of diagrams, pictures, charts as well as differentiate blog articles based on the topics. So, I recommend to keep up with our blog in 2021. As a custom software development house, we promise to be more informative both concerning technical topics and business development, tips for finding efficient custom software development companies, and IT trends.
If you were reading this article and reached down this paragraph, you are one of our readers as well. So we want to send a huge thank you to you too, and hope we'll see you surfing in our blog in the coming year as well!
To sum up, although 2020 was a tough journey for all of us, we had a list of good experience through the elevation of our company's reputation and skills. I hope this article gave useful and fresh information to our readers, and I do believe that 2021 is going to be the year of new accomplishments and joy for all of us.
Happy Holidays, and see you in 2021!
Having
development
needs?
CodeRiders will address your web and mobile development challenges by creating custom software, helping with outsourcing services, or just consulting on your software development requirements.
Explore services