Did you know that global giant companies started their successful business journey by working with software outsourcing companies and dedicated software engineers?
Global enterprises like Google, Alibaba, WhatsApp, Skype, GitHub, Opera, Apple, Basecamp, Slack, and MySQL all started by outsourcing their software development needs.
You might have already noticed that these companies come from various industries, proving that software outsourcing is a game changer in the global economy in general. Starting from information technology and high-tech to e-commerce, media and entertainment, electronics, business development, and high technologies, all these industries have used or are still using offshore software development in their business development plans.
So, if you are a startup looking for creative ways to easily and rapidly make a name in your field of operation, this article is for you. In this article, we will share the top 5 reasons startups work with software development companies from famous tech hubs and hire dedicated software developers abroad.
Benefits of outsourcing software development for startups #1
Cost efficiency and opportunity to own the most innovative software solutions at reasonable prices
Outsourcing software development to an offshore software company saves money, effort, and time. However, before starting cooperation, you should know exactly where and how to find and identify a qualified software outsourcing company.
In the beginning, research the top software outsourcing destinations, write down the best software development houses in these locations, and develop a strategy to identify the most suitable software vendor for you.
Armenia is one of the best software outsourcing destinations in the world, along with Ukraine, Poland, Latin American countries, and Vietnam. One of the biggest advantages of Armenia as an offshore software development country over other popular tech destinations is its small market. Armenia is a small country that has managed to make a name for itself. It means the chances of meeting a low-quality software vendor are fewer than in huge software outsourcing destinations, such as India, Ukraine, Latin America, etc.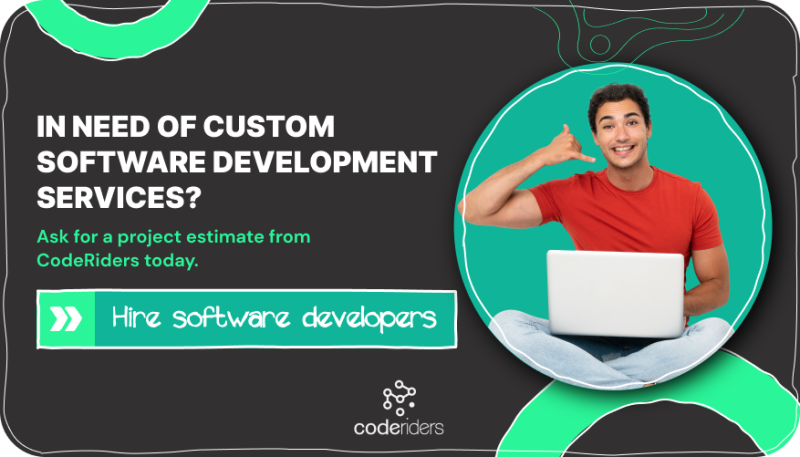 Working with an Armenia-based software vendor like CodeRiders has the following benefits.
Low-prices and high-quality software development services
To make this claim clear, let's compare tech employee salaries in developed countries with the rates that popular software outsourcing destinations suggest for remote software engineers and developers.
No space fees
If your business does not have a physical location yet, hiring remote software engineers and a tech team is a solution. Besides low salaries, you will not have to pay a space rate.
Utility fees
One of the challenges for newly established companies and startups is keeping a physical office. Besides renting the office space, the company should save money for utility fees, such as energy, water, internet connection, and other related expenditure.
Office furniture and electronics
If you are starting a brand-new business, you should provide electronics and, most defiantly, office furniture for your employees. It is a serious investment, and for startups that do not have a return on investment (ROI) yet, it may be challenging.
Employee benefits
The demand for professionals in the IT industry, such as software developers, software engineers, QA specialists/testers, project managers, technical writers, product managers, and digital marketing managers, is extremely high. Because of the high level of competency in the field, it is crucial to provide competitive conditions for your employees if you want to keep them for a long time. These benefits include:
Health insurance,
Free lunch, snacks, drinks,
Frequent financial bonuses and salary reviews,
Gym membership cards,
Paid day-offs, etc.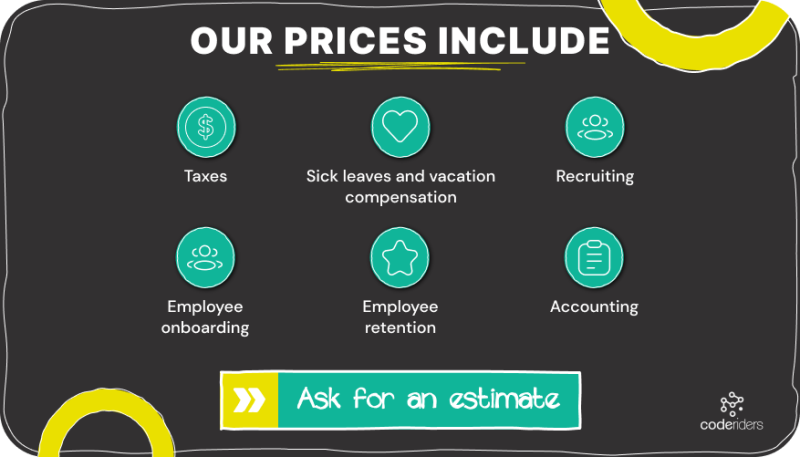 Benefits of outsourcing software development for startups #2
Greater focus on core business
Let's say you have an idea for developing an online marketplace and gallery to connect stores with customers. As a startup, you must convince the best stores in the market to register on your gallery. Your initial goal is to collect and offer convincing incentives for cooperation, but having a top-notch website is also important. Finding a software outsourcing company that can implement the most cutting-edge e-commerce software solutions is exactly what you need. It is a win-win partnership: your software vendor takes care of your user-friendly and multi-functional website while you concentrate on attracting local or even international stores.
For example, CodeRiders cooperated with a Swedish online marketplace and gallery, Footmall. Our experienced software engineers and developers built and developed complex back-end functionalities that always show accurate data.
Some of the custom software solutions include:
Regular updates on the availability of the goods,
Discounts functionality,
Complex filtering,
Instagram API development for advertising purposes.
Footmall is now a local authority marketplace in Sweden and cooperates with more than 20 online stores.
Check out the client's review below:

Benefits of outsourcing software development for startups #3
Access to the greater tech talent pool and solutions
Finding skilled software engineers and developers is not an easy task, especially in countries facing tech talent shortages (USA, Canada, Australia, some European countries, etc.).
Companies that need software development services have no choice but to spend time, effort, and resources on the long recruitment process. This is especially challenging for startups that have not created a name for themselves yet. Outsourcing software development expands your opportunities to work with more "multi-functional" software engineers, developers, and other tech professionals. In the meantime, you have a chance of adding new team members to your project by just hiring more professionals from your current software outsourcing company.
At CodeRiders, our software engineers are experienced in more than one technology. We have junior, medium, and senior software engineers and developers who work consistently on expanding their tech stack. Besides delivering high-quality service, our professionals come out with new skills and expertise after each software development partnership. We also have all the levers to ensure their professional development. You can learn more about CodeRiders' main tech stack here.
Some of the most demanded software development languages and frameworks include:
JavaScript,
Node.js, React.js, Vue.js, Angular,
React Native, Ionic, Flutter,
Get to know our software developers by checking out their interviews below:
Benefits of outsourcing software development for startups #4
Time-Zone Adaptability
When hiring an in-house software engineer, companies follow local work standards and routines, which also include fixed working hours. If you want your employee to work non-working hours, e.g., early in the morning or late at night, this usually requires additional money and bonuses. However, the last thing you would want to do is pay rising software developer salaries before earning money from your business.
In offshore software development, not only can you hire skilled software developers easily and effortlessly, but you can also choose a software outsourcing destination that matches perfectly with your preferred schedule. Armenia falls into the GMT+4 time zone. Located between 2 big continents, Asia and Europe, Armenia is a more flexible destination in terms of timing.
At CodeRiders, we have had clients from almost all parts of the world, starting from the Nordics, Western Europe, Northern America, Western Asia, Australia, and Africa. Check out more information about CodeRiders software development company's clients and reviews.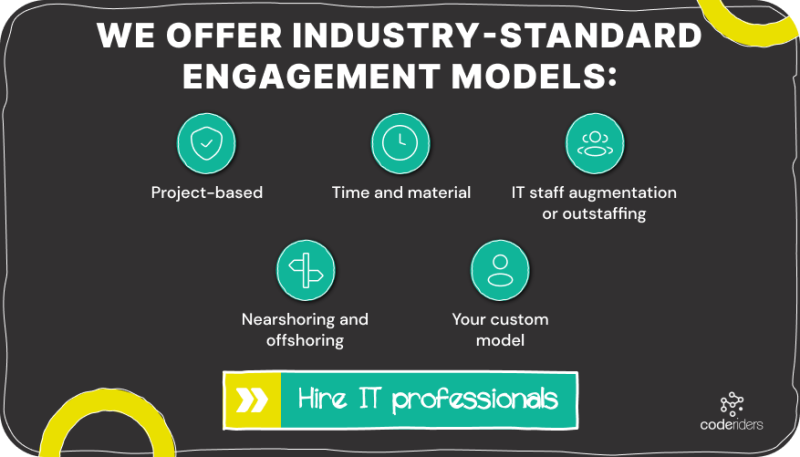 Benefits of outsourcing software development for startups #5
Dedicated tech staff and great communicators
Being a great software developer or engineer does not mean having outstanding communication skills. We all know the stigma of tech professionals being less interactive and talkative. Of course, this is not 100% true but has some reality in it. Software development is a very tough and exhausting job and sometimes in-house software engineers prefer to concentrate all of their energy on solving tasks rather than cooperating.
However, this is not the case for remote software developers and engineers. To remain productive, offshore software engineers should maintain open lines of communication with the client and ensure that remote working does not risk the partnership. Although we have project managers who help along the way, remote software engineers and developers are more used to daily stand-ups, cross-department discussions, and back-and-forth active communication. It accelerates and facilitates the overall software development lifecycle (SDLC) resulting in significant cutoffs in time and money estimates, which are critical for startups.
To sum up, offshore software development is a proven business development strategy for startups. Working with software outsourcing companies helps startups save money and resources, concentrate on core goals, and "create a name" next to industry game changers. It is not a coincidence that the world's biggest and most powerful enterprises have started their businesses by working with dedicated software engineers and software development companies from famous tech hubs. Most of these enterprises still include software development outsourcing in their business development plans. Why shouldn't you give it a try for your startup?
Do not know how and where to start? Leave your message here, and we will get back to you within one working day.
Having
development
needs?
CodeRiders will address your web and mobile development challenges by creating custom software, helping with outsourcing services, or just consulting on your software development requirements.
Explore services