Hiring the right software development team is the foundation of your success. The software outsourcing process is like a pyramid where the base maintains the whole poise of it.
Going through the list of top software outsourcing companies is not enough. Identifying whether a specific vendor is a good fit for your project is a must. This process is possible through fruitful discussions.
A huge percent of software outsourcing failures comes from the misunderstandings and miscommunications of the two parties. In our experience, many frustrated businesses approached CodeRiders as they were desperately searching for an appropriate software vendor to finally solve and finish their previous partner's mistakes.
Overlooking and underestimating the importance of hiring the right offshore developers in the large pool of software outsourcing companies is a big "no". In this article, we will speak about the top 8 questions to ask your software vendor candidate to begin an effective outsourcing partnership.
If you also need assistance in how to find the right software vendor candidates, I suggest reading our previous articles about:
Otherwise, let's dig into the top questions to ask your software vendor candidates before hiring them.
Top Questions to Ask Software Vendor #1
Can you provide time and cost estimates as accurately as possible?
Make a business and technical requirements document before asking for the time and budget estimates from your software vendor candidate. This is of critical importance as for giving correct estimates your future business partner should fully understand what you exactly need.
If you do not have technical documentation or scope of work at your hands, you should better be ready for the "Time and material" engagement model. This means your software partner will charge money only based on how much time the developers will spend working on your project. They will define an hourly-based price or monthly payment. In this case, it will be almost impossible to provide you with the fixed time and budget estimates as there is no full and final version of the requirements.
Of course, you can always ask for rough estimates or guestimates, but don't take that information too strictly. Be ready, that it can change any time you add a new requirement or ask for something else.
A quick tip: You can also make an evaluation sheet afterward, and write down the pros and cons of each candidate, their provided solutions, to choose the right software outsourcing company for you.
We at CodeRiders start our software development partnership by learning about the issue, consulting, and offering solutions just like in the below picture.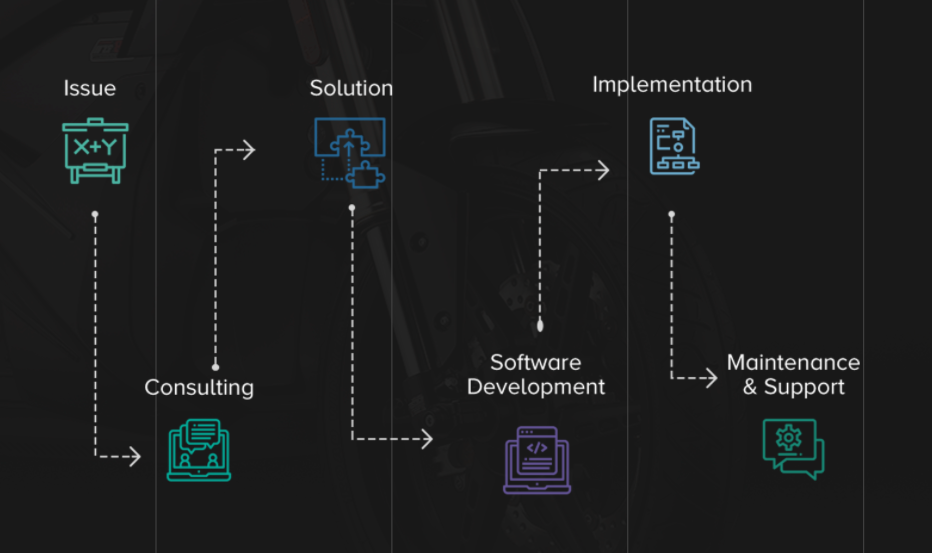 Top Questions to Ask Software Vendor #2
Do you have case studies to prove your professionalism and experience?
It is natural that after filtering out the top software outsourcing companies in the market, you research their online reputation before contacting them. However, checking it online doesn't mean you know all about them. There will still be some other information that is publicly unavailable but is useful for you, such as full descriptions of their previous projects.
You can either check descriptions about the previous projects with reviews from the clients or ask the vendor to present you the project via a call and live screen sharing. You can even ask contacts of their previous clients if there is no NDA and if it is sharable information for them.
If a software vendor signs a non-disclosure agreement (NDA) with their partner, the vendor agrees to keep the partner's name and other details in private. If your software vendor candidate refuses to present some of the previous works due to the signed NDA, don't consider this as a red flag. Instead, note that the client keeps it professional and does not send non-sharable information for their benefit.
Top Questions to Ask Software Vendor #3
Which industries do you specialize in providing software solutions?
This question is the continuation of the previous one. Besides, figuring out your software outsourcing company's experience level, it is important to check if they are comfortable with providing software solutions for your industry.
For example, if you are in the healthcare and hospital management industry, you can ask your software vendor candidates the following questions:
Are you familiar with the HealthTech and Telemedicine industry?
Can you share your previous works, live apps, or websites in the HealthTech industry?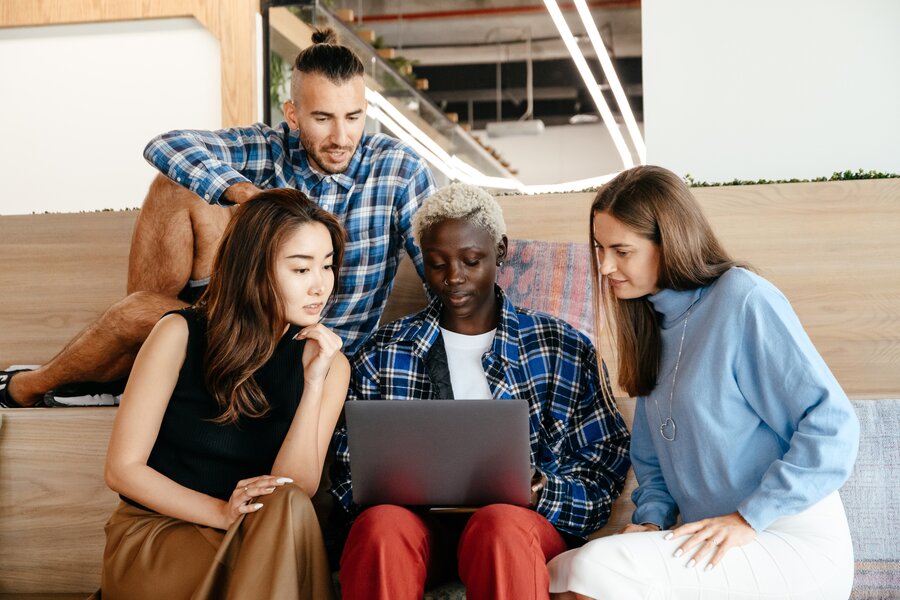 Checking the candidates' experience in your industry would be useful for you, however, note that if the vendor candidate hasn't worked in the healthcare industry yet, this isn't a reason to dismiss this software outsourcing company from your consideration list. Instead, have an honest conversation with them and figure out if they can develop and implement your solution. Don't over-prioritize the vendors' industry experience, especially if your project does not require industry-specific functionalities that cannot be met in any other field.
Top Questions to Ask Software Vendor #4
Who will work on my project?
Before hiring a software development team, companies usually know what professionals they will need. After all, a reliable software outsourcing company doesn't consist of just programmers.
If you are looking to hire an offshore software development team, consider the following professionals – depending on the project specifications:
Front-end developers and UI/UX designers

: They are responsible for the user experience and the whole visual part of your project. This means they make sure your application or website is convenient to use and easy to coordinate. Responsive designers make sure the mobile application or the software looks the same in all browsers and platforms.

Back-end developers

: They are responsible for the entire program logic and make sure it operates correctly and successfully. The back-end developers ensure that the data requested by the front-end system is delivered through programmatic means. Check our back-end developer's interview to learn more about back-end software solutions and cutting-edge technologies.

Database developers

: They are responsible for creating and implementing computer databases. Database developers focus more on determining the best database management system, testing database programs for efficiency and performance, or expanding their range of functionality. Check our SQL developer's interview to learn more about database systems.

CTO

: CTO is the leader of the whole software development team. Having a CTO in a software outsourcing team is not mandatory, but more like a specific company's individual approach to the actual software outsourcing process. . Some companies prefer to hire a CTO too, so he/she will make sure that a bug-free code is handed and developers are under control, while others believe that high-quality software outsourcing companies possess these traits anyway.

Project managers

: Project managers enter the software development process after all the requirements are identified. PMs distribute tasks between software developers, control the overall software development process and organize smooth communication between the development team and the client.

Quality assurance specialists

: QAs are the people who test the code before it goes live. They make sure the code is bug-free and operates correctly and as planned.

Technical writers

: People who prepare technical documentation for the software project. They break down complicated technical products into plain and easily understandable guides to help the end-users understand how to use the products and services.
If you're unsure about how many people you want in your project and what specialties they should process, you can always consult this with your software vendor candidate. Usually, a technical person will join the call or the meeting and advise you on the team composition based on your technical requirements. At CodeRiders, we provide free consultation on your project and needs, so you can always send us a quote request and within one business day, we'll come back to you with a call arrangement.
Top Questions to Ask Software Vendor #5
How do you imagine our remote business communication?
There are several proved models for an excellent and efficient communication process between software vendors and clients. Check out, industry-standard engagement models for more details.
At CodeRiders, we worked both with companies that approached us with a crystal-clear engagement model in their mind, and those that needed some help to understand the best possible solution for effective client-software vendor communication. If you fall into the 2nd category, it is a great idea to discuss your co-operation model with your software vendor and choose the best-customized solution.
On the other hand, a good software vendor will provide you with everything you need to make the software development process transparent. There are several business management platforms for constant chatting and discussions as well as reports and video calls.
For example, let's say you have your product on your mind but you are unsure about the diversity and types of functionalities for your software. You want to start the software development process and meanwhile figure out more details. This means the scope of work is not final you can make changes on the product while developing it. You also want to review all the work and get regular reports from your software outsourcing team. Here the time and material model is a good fit. At CodeRiders, this is how we work with it:
Agree on an hourly rate or monthly payment for full-time dedicated work.
Set up daily, weekly, or monthly video calls and discussions upon the client's request.
Create workspaces on business management platforms such as Trello, Jira, Slack, Asana, and keep live communication.
Provide reports regularly.
Top Questions to Ask Software Vendor #6
Are you open to signing non-disclosure agreements?
We spoke a little about NDAs earlier in this article. As mentioned, a non-disclosure agreement is signed when the client urges to keep their company name and some details about the project in private. Information confidentiality issues are sometimes critical for many businesses. The software outsourcing company should make sure there is no information leakage from their employees. Some companies want to make sure there is no risk of illegally taking possession of their idea.
In some cases, this also means that the software vendor cannot include the project in their portfolio and ask for public reviews from the client. However, these are rare cases. Mostly, there is some kind of information that still can be used publicly – of course, after coming into an agreement with the client.
A respectful software vendor should have no problem with signing NDA.
Top Questions to Ask Software Vendor #7
Will you be able to expand your team during the software development process?
One of the greatest advantages of hiring a software outsourcing company is the trust in their teamwork and internal co-operation skills. Unlike hiring freelancers, software outsourcing teams are experienced working together in various projects, know the strong and weak sides of their colleagues, and replenish each other.
Thus, hiring more people in your software outsourcing team is completely stress-free if you work with a vendor. All you need to know is to make sure your software vendor has additional resources for the future, or at least they have the ability to scale up quickly.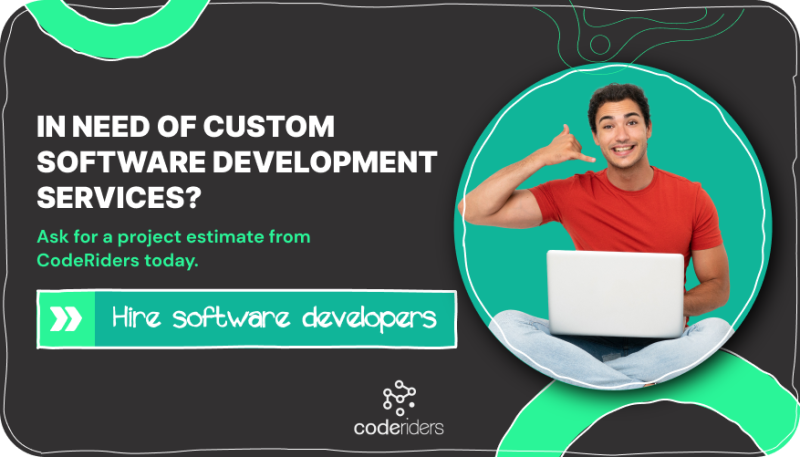 Top Questions to Ask Software Vendor #8
Can you provide maintenance and support after the project ends?
Once launched, hopefully, your project will be used by a big number of customers. Your web or mobile app will grow and change throughout time, new features will come to the surface that will demand a high competency level. Post-launch support is different from actual software development. Post-launch tasks rise at a random moment and have smaller volumes.
Thus, it is important to know beforehand what kind of post-project support your software vendor offers. Of course, you can turn to another vendor for maintenance and support. However, your initial software vendor is the one who knows your product from A to Z.
Final thoughts
Hiring a software development team is an easy process if you learn and test the basic technics of choosing the right software vendor. This includes asking the right questions and initiating necessary conversations. Asking the most important questions to your software vendor at the right time will diminish the chances of misunderstanding between the software outsourcing company and the client.
Good luck with your vendor search!
P.S. Don't forget to check CodeRiders software outsourcing offerings. We believe they're worth it.
Having
development
needs?
CodeRiders will address your web and mobile development challenges by creating custom software, helping with outsourcing services, or just consulting on your software development requirements.
Explore services