CodeRiders has been listed among the top Armenian software outsourcing companies in a number of categories by BestStartup.Asia. The decision was made based on the companies' good reputation along with the well-known and trustworthy awards, directories, case studies, and testimonials. Here are some of those categories where we are mentioned among the leading software outsourcing companies.
About CodeRiders
CodeRiders is an IT outsourcing company based in Armenia. The company was originally established as a software development school back in 2013. In just a year, CodeRiders software development school gave 800+ alumni. This success motivated the founders to switch from a software development school to a software outsourcing company. In 2014, CodeRiders software development company was formed out of the 15 best alumni and entered the international market of software vendors.
Ever since, we have been listed in multiple categories by various directories and awards, such as top web development companies, top e-commerce companies, mobile app development companies, best software development partners, and more. Throughout our operation of 8+ years, our number one purpose is to deliver a clear (bug-free) code and keep professional and clear-cut business communication.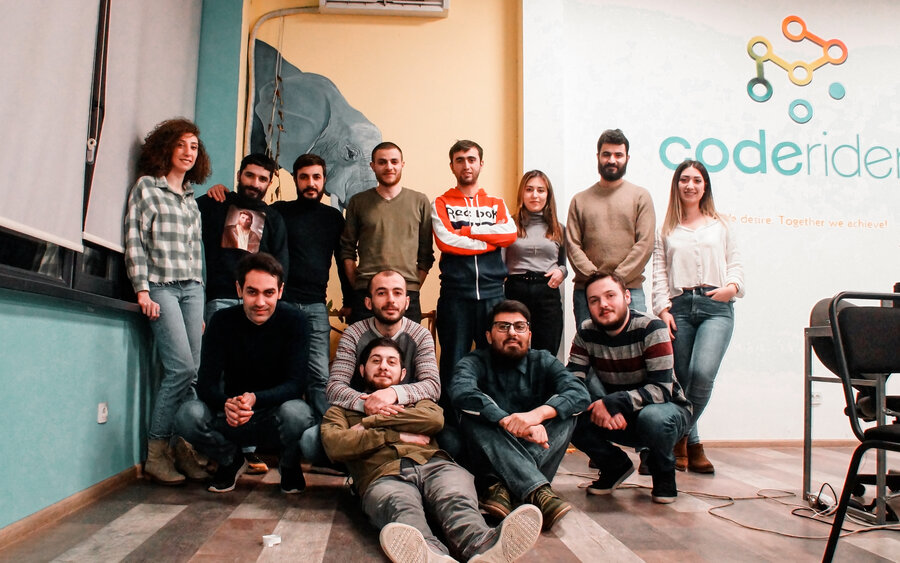 As a reliable software vendor, we offer:
Web development and design,
Mobile app development and design,
Custom software development,
Software outsourcing and IT consulting,
Business intelligence solutions development,
API integration solutions,
Real-time solutions,
Big data & analytics.
We are able to start a project from scratch or work on already an existing product. Feel free to contact us if you need a consultation or an estimate.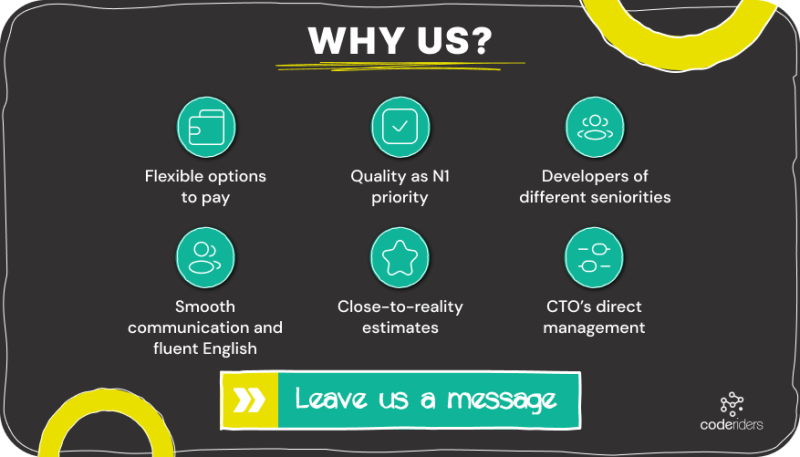 During our journey of successful partnerships, we have managed to work for a respectable number of companies around the world. Our clients come from distinct cultural and ethnic backgrounds, which makes software outsourcing more interesting and appealing. We have a big client pool from:
Northern, Central, and Western Europe,
Eastern Asia and Arab countries,
South Africa,
Australia and New Zealand.
We delivered 300+ completed projects worked with 30+ companies worldwide, and the projects we worked on so far have 180K+ users. Due to the absence of any national, cultural, and mentality differences, we easily and quickly build strong bonds with our clients from any corner of the world and establish long-lasting relationships.
Clients trust us, as we are a software outsourcing company that has:
Testimonials of happy and satisfied clients
CTO who's constantly in control of the software development process and makes sure the clients get bug-free codes
Secure software development process (100% code security and signed NDAs)
Intellectual property rights (IP rights)
Ability to increase the number of developers upon request
Professional approach to the job, clear-cut communication, and English language skills
Reports/calls by our dedicated, individual developers or a team lead
Dedicated project managers (PMs)
CodeRiders software outsourcing company also has a high client return rate which is connected with well-organized and strategic vendor-client communication technics. Check this article for a more in-detail analysis of this topic.
Now, let's have a quick view of the most popular and in-demand software solutions.
E-commerce or W-commerce
According to Statista, more than 2.14 billion people globally purchase services and goods online. So, obviously, there is a massive competence in the Retail and Wholesale industry. As convenience and simplicity are very important both for the clients and the workers, custom e-commerce, or w-commerce software solutions are implemented to concentrate specifically on the business's needs, level up the user experience, and facilitate employees' jobs.
Some of the most needed custom e-commerce and w-commerce solutions include:
Business Intelligence,
CRM (Customer Relationship Management),
API integrations,
Big Data and Analytics,
HR software,
Warehouse Software.
Hybrid Mobile Application Development
The implementation of hybrid mobile applications has doubled its speed these days. The problem is that native mobile application development takes more time and more resources. Companies should hire at least two separate developers to work on developing a single application for iOS and Android mobile operating systems.
In contrast, a hybrid mobile application model takes less time and resources. A single developer can work on a project using Ionic, Flutter, or React Native technologies. Thus, companies concentrate on finding cross-platform mobile app development companies. To learn more about this topic, I suggest checking CodeRiders' article about the pros and cons of native and hybrid mobile application development.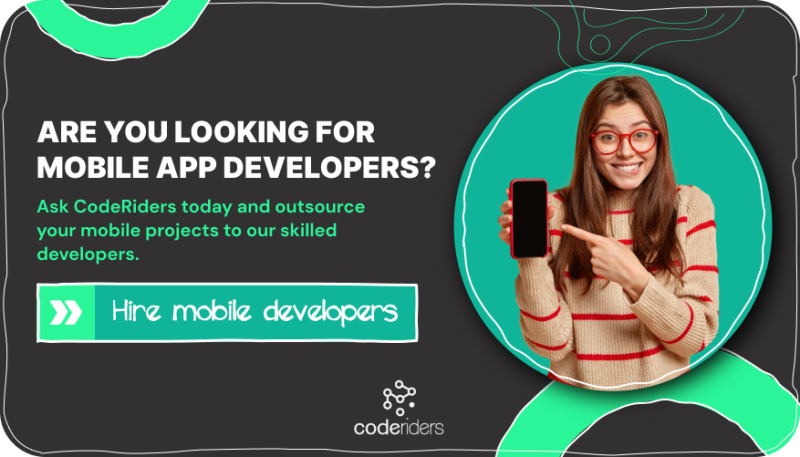 ERP Software (Enterprise Resource Software)
ERP system is a type of integrated software suite that consolidates the process of gathering and organizing business data. This is very crucial for every stage of the business development lifecycle regardless of the industry, type, employee count, etc. However, it is especially crucial for big enterprises as it has the ability to restore a variety of features into one system and make the thousands of employees' work more organized and effective within the company objectives.
Some of the major systems ERP software includes are:
Project management system (financial and procurement management),
Product lifecycle management or business lifecycle management system,
Reporting and analytics,
Inventory management system,
Logistics and supply chain management system (Warehouse software), and more.
These services are very often handled by top web development companies or IT outsourcing companies due to a dominant number of benefits. To learn more about this topic I suggest checking our article on CodeRiders' blog.
These are some examples, if you have an idea that would like to discuss or need a consultation or an estimate do not hesitate to contact us.
What will happen afterward?
One of our business development specialists will contact you and discuss further details with you. Usually, we appoint a video call, where we will answer all your questions and explain the software outsourcing lifecycle.
We want to thank BestStartup.Asia again, for recognizing our reputation in the international IT industry and for appreciating our role in building high-quality software solutions.
About BestStartup.Asia
BestStartup.Asia aims to showcase the latest innovations and greatest companies across Asia. It is managed and owned by Fupping LTD, which is a London-based media company. The main goal of BestStartup.Asia is to promote the most innovative, cutting-edge, and qualified Asian companies on the Global Stage.
Having
development
needs?
CodeRiders will address your web and mobile development challenges by creating custom software, helping with outsourcing services, or just consulting on your software development requirements.
Explore services