CodeRiders' Business Development Executive Anna Khachatrian was hosted by Armenian Public Radio (FM 97.3) in the frames of Radiolab program. The interview was held in Armenian. The main topic of invitation was to represent CodeRiders as a successful start-up, and to some people may be even motivation, to go out and chase after their dreams.
The company was recently announced as the Regional Winner of the Nomination of Best Software Development Partner at EuroAsian Startup Awards.
The Global Grand Final and Summit 2020 will take place in Istanbul. CodeRiders will be one of the Global nominees from all over the world for the Category of Best Software Development Partner.
Now, if you think that starting a business with little money is just impossible and you should wait for the "perfect time" to invest, you are to read CodeRiders' story.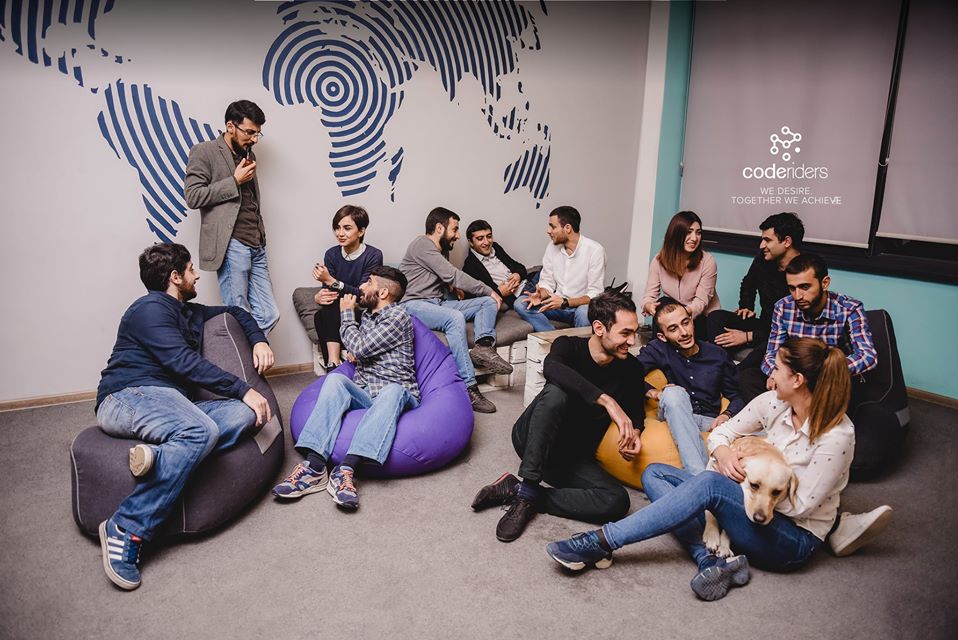 Artak Amirkhanyan, a young software developer founded CodeRiders Software Development School back in 2013. The school soon became one of the leading ones in the country and gave more than 800 alumni. In 2014, a decision was made to gather the best students and to form a small software development agency. The self-made agency later became a big success and is serving as one of the respectable software start-ups in Armenia.
As mentioned during Radiolab, the company's success lays down in its philosophy. That is:
To gather young, enthusiastic professionals who besides being colleagues have close friends even family connections.
To form a family having one clear mission and being dedicated to its realization.
The team stresses the quality, uniqueness of the product. The software solutions should be challenging, interesting, with new creative ideas and what's more important, they should make users' lives easier.
We gather around an idea: "Build simply powerful systems with state-of-the-art technology and innovation to automate business process".
As to the question of "Who are CodeRiders partners?", Anna added:
"CodeRiders is mostly an outsourcing company and targets on providing software solutions to the international market". We have partnerships with CRM, Health and Medical, Finance, Entertainment, Legal, Retail and wholesale companies in Europe, Asia, America, and Australia".
The company is enlarging its horizons and is planning to work for more industries. The creation of our own innovative product is not a far-off idea. Proper to the company's philosophy and mission, the product is thought to be something of massive use. Something that will simply get rid of the annoying technical errors that happen in almost every industry.
However, before that, the team is excited to represent CodeRiders on an international level during Global Startup Summit this year! Subscribe to our blog to learn about the award ceremony and summit more in detail.
Having
development
needs?
CodeRiders will address your web and mobile development challenges by creating custom software, helping with outsourcing services, or just consulting on your software development requirements.
Explore services