In the era of technology, under the pressure of extreme competency, offering flexible software solutions and design services is critical for gaining and maintaining long-term customers. User-friendly websites and apps are designed by UI/UX designers in the easiest and most-accepted way for all visitors, or at least most of them, to navigate through.
In this article, we will explore:
Who are UI/UX designers
Why they are so crucial for a software project
How you can benefit from hiring a qualified UI/UX designer from a famous tech hub
How and where you can find them
Who are UI/UX Designers?
UI/UX designers are responsible for creating user-friendly software, websites, and mobile applications. These professionals work on increasing the number of loyal customers by implementing intuitive software design.
You have probably guessed by now that the role of a UI/UX designer is extremely important. Let's discuss a practical example as well.
Imagine we have an e-commerce company that sells shoes. The company's main concern is the low customer return rate. The team searches for solutions to maintain their customers and encourage them to return for new sales. Here various scenarios should be reviewed. However, reconsidering the user-friendliness of their online shop should be a priority.
Is my e-commerce platform easy to navigate?
Does it have an intuitive design?
How is the color combination of my website?
Is my website mobile-friendly?
All these questions should be addressed properly and in cooperation with the UI/UX designers and software developers.
Check out CodeRiders' portfolio for likewise successful software development projects and client reviews.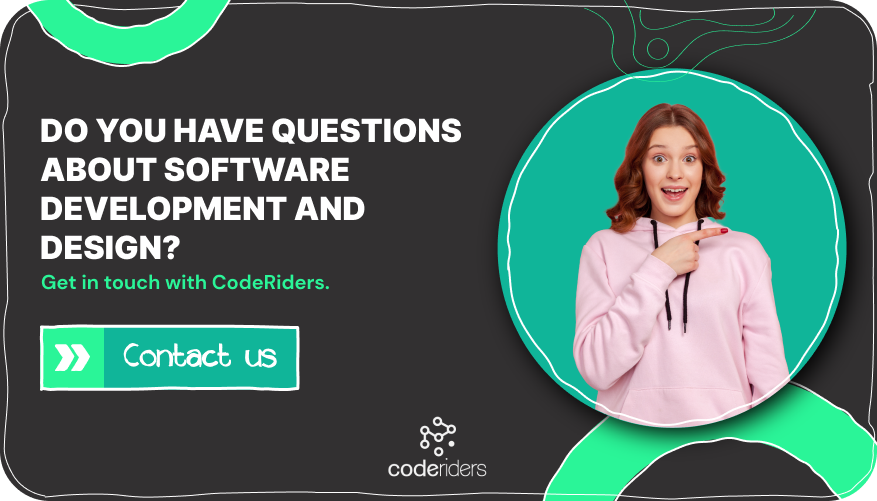 What Do UI/UX Designers Do?
UI/UX designers make the most complicated software solutions easy to use and understand by creating accessible interfaces. A UX designer is the decision maker in choosing how the user interface should work, while a UI designer decides how the user interface should look. In most companies, a single professional is responsible for UI/UX tasks. However, you will also meet companies that have separate UI designers and UX designers.
The responsibilities of a UI/UX designer do not end up with choosing and implementing user-friendly interfaces. These professionals are problem solvers. UI/UX designers work closely with product managers, owners, and software developers to identify the product users and understand their perspectives and requirements. They also work on finding and solving problems that harm the customer experience.
UI/UX designers should understand the customers and the market they work in very well to give correct product definitions and user requirement assessments. The actual design work starts only after gathering user requirements and adapting a comprehensive UI/UX design strategy for the brand.
The Main Responsibilities of UI/UX designers include: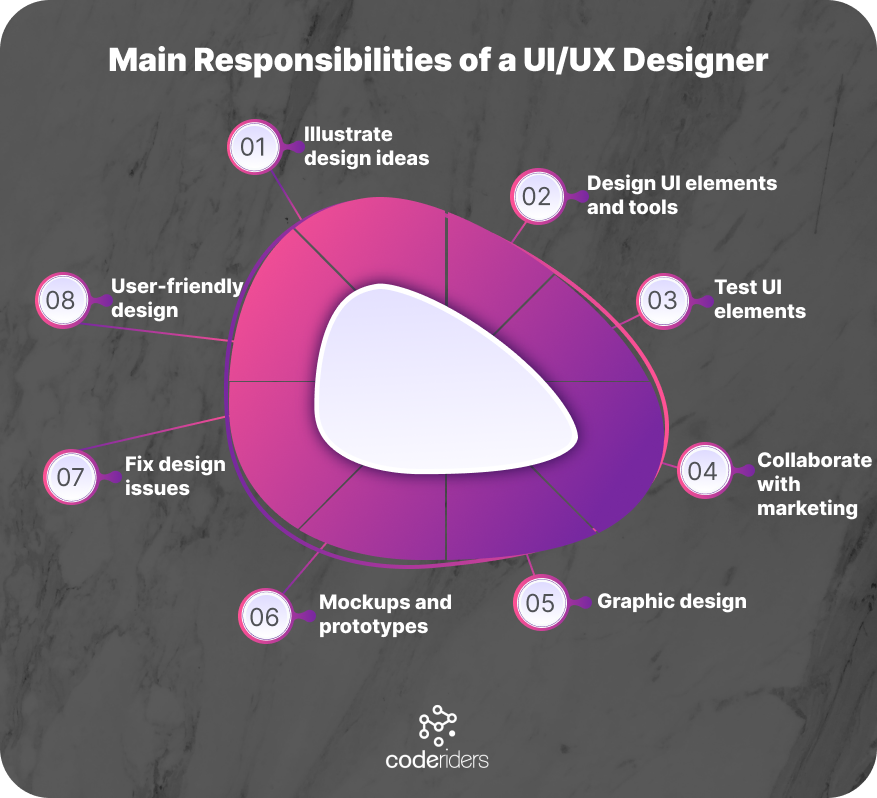 Illustrating their design ideas through storyboards, wireframes, sitemaps, prototypes, flow diagrams, graphic and visual designs, etc.
Designing UI elements and tools such as widgets, navigation menus, tabs, etc
Testing UI elements such as call-to-actions (CTAs), banners, page flows, layouts, etc.
Collaborating with the marketing team for creating a custom experience and tailored graphic designs for their website or application users
Creating mockups and prototypes for the team to visualize how the future website or application will look like
Keeping an eye on drawbacks or design issues and fixing them at the earliest
Following users' feedback to design the website and application for user convenience, for example changing font colors, text size, etc.
Reasons to Hire UI/UX Designers
UI/UX designers help understand and identify your product's end users
UI/UX designers understand your product users' pain points and requirements
UI/UX designers create a user-friendly product and interface, which is extremely important for gaining loyal customers
UI/UX designers provide a specific style to your content or product letting them stand out in the market and be more recognizable among millions of other similar ones
UI/UX designers make your efforts and hard work more effective by implementing visual solutions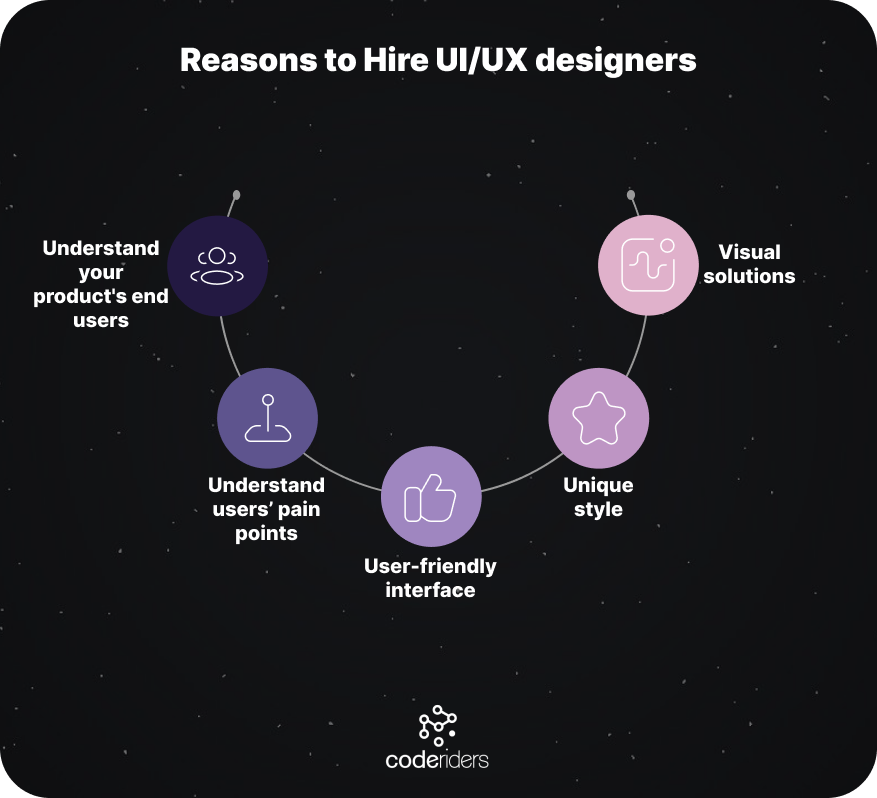 UI/UX Designer Salaries Worldwide
According to one of the world's most thriving communities for workplace conversation, Salary Expert the estimated salary potential for a UX Designer will increase by 21% over 5 years becoming $116.000 per year in the United States area minus additional pay, which can include cash bonuses, commission, tips, and profit sharing.
Other countries in the chart, such as Switzerland, Australia, New Zealand, European Union countries, Hong Kong, Singapore, Canada, UAE, and South Africa, also have significantly high annual salaries for UI/UX designers compared to Armenia. Therefore, this sums up why these countries lead the charts of the top countries in the world with the high number of organizations outsourcing their software development and design services to famous tech hubs, such as Armenia.
As you can see from the chart, these rates refer to in-house UI/UX designers in the corresponding countries. Hiring in-house employees is much different than hiring dedicated UI/UX designers directly from tech hubs. If you hire UI/UX designers from software outsourcing companies like CodeRiders, you only pay monthly rates for the work done. This means you skip other expenses such as office rent, equipment, health and dental insurance, snacks, drinks, or other bonuses.
Recommended: 5 Key Reasons Startups Hire Software Developers in Armenia
Most Common Tools Used by UI/UX Designers
To execute the above responsibilities and more, UI/UX designers should have a solid knowledge of the most widely used design tools in the world. Let's explore a few of them.
Figma: Figma helps create eye-friendly mockups and prototypes. It is simple and practical to use. Just share the link to your file or prototype with your colleagues and receive their feedback via real-time interactions and comments. Figma is also browser-based, which means it provides instant access. Figma also allows its users to create custom plugins. For example, at CodeRiders, our developers created a custom Figma plugin for our client from Italy. This plugin significantly facilitates and accelerates the clients' in-house tech team's work.
Recommended: Software Developer Sona Avetyan from CodeRiders about JavaScript & Its most Most-Demanded Frameworks
Sketch: Unlike Figma, Sketch is a local design tool that should be downloaded into the computer to use. Sketch is available for only Mac users, while Figma is available for both Windows and Mac users. The users integrate plugins such as translation, animation, prototyping, and developer handoff. As Sketch is only designed for Mac users, it sometimes can be more tailored, which is one of the reasons designers like Sketch for creating mockups for native mobile and website applications.
Recommended: Reasons to Choose Hybrid Mobile Applications over Native
Adobe XD, Adobe AI, and Adobe PS: Adobe XD and PS are widely used across the whole software design process from ideation and wireframing to developer handoff. That is why Adobe XD is slightly more powerful than Figma. However, both are amazing tools for prototyping. If Figma and Sketch are mostly used for creating mockups, Adobe AI has more complex use.
At CodeRiders, our UI/UX designers possess all the above-mentioned crucial skills and more.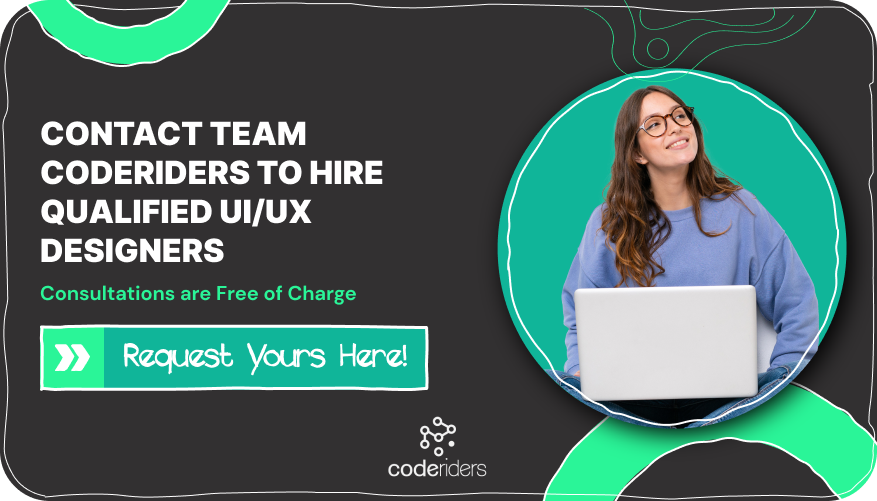 Qualified UI/UX Designers Have the Following Skills
Product design
If a UI/UX designer is assigned to a product design, this means they should:
Be actively involved in the whole process of creating and designing the digital product from concept to production.
First, identify the product user and understand their pain points and preferences.
Work on ideation, prototyping, testing, and manufacturing.
Explore the end users' needs and market standards. They should start creating and iterating a product design that solves the users' problems and requirements.
Web design
Web design is the process of creating and designing websites for the Internet. It involves several aspects, such as the layout, color scheme, graphics, content, and overall user experience. The objective of web design is to produce visually user-friendly websites that effectively communicate information or offer a service to visitors.
Mobile design
Mobile design refers to the process of creating and designing user interfaces (UI) and experiences (UX) for mobile devices such as smartphones and tablets. The objective of mobile design is to produce interfaces that are easy to use, visually appealing, and optimized for mobile devices.
Wireframing
Wireframing is used right at the beginning of the software development process to create a rough sketch of the product's layout, navigation, and content hierarchy. The ability to visualize the structure of the product and its key features is an important quality of a skilled UI/UX designer.
Prototyping
Prototyping is a more advanced stage in the design process and is of equal importance as wireframing. A qualified UI/UX designer should be able to create an interactive model of the product that simulates the user experience. Prototyping tests and refines the product's usability, functionality, and user experience. Prototyping often involves adding more detail to the design, including content, images, and branding.
Mockups
A mockup is the final static representation of the product. UI/UX designers create mockups to show the visual design of the product including colors, typography, and imagery. The purpose of mockups is to give a more accurate representation of what the final product will look like and to ensure that the design is consistent with the brand's style and guidelines.
Testing
A high-quality design can not be complete without testing. UI/UX designers use various testing techniques to evaluate the design's effectiveness, usability, and overall success in meeting user needs and business objectives. Testing can be done at different stages of the design process, including during wireframing, prototyping, and development.
Agile Project Delivery
Agile software development is an iterative and flexible approach to SDLC. It welcomes changes during the project and is a way to manage a project by breaking it up into several phases. It involves constant collaboration with stakeholders and continuous improvement at every stage. Understanding the Agile methodology and its principles is vital for every team player, including UI/UX designers.
Recommended: Your All-in-One Guide to Agile Software Development
Other crucial skills include the knowledge of UI KIT, design systems, design thinking, Google Material, and Human Interface Guidelines.
Hiring a qualified UI/UX designer who can perform and deliver all the above-mentioned tasks in the most professional way is costly. That is why we have international tech hubs that solve numerous companies' problems. Software outsourcing firms from tech hubs offer UI/UX designers, software developers, engineers, and other IT labor at affordable prices without hurting product quality.
CodeRiders is one of those software outsourcing companies. We operate in Armenia, a reputable tech hub, but are recognized worldwide.
Recommended: 5 Key Reasons Startups Hire Software Developers from Armenia
Senior UI/UX Designer Resume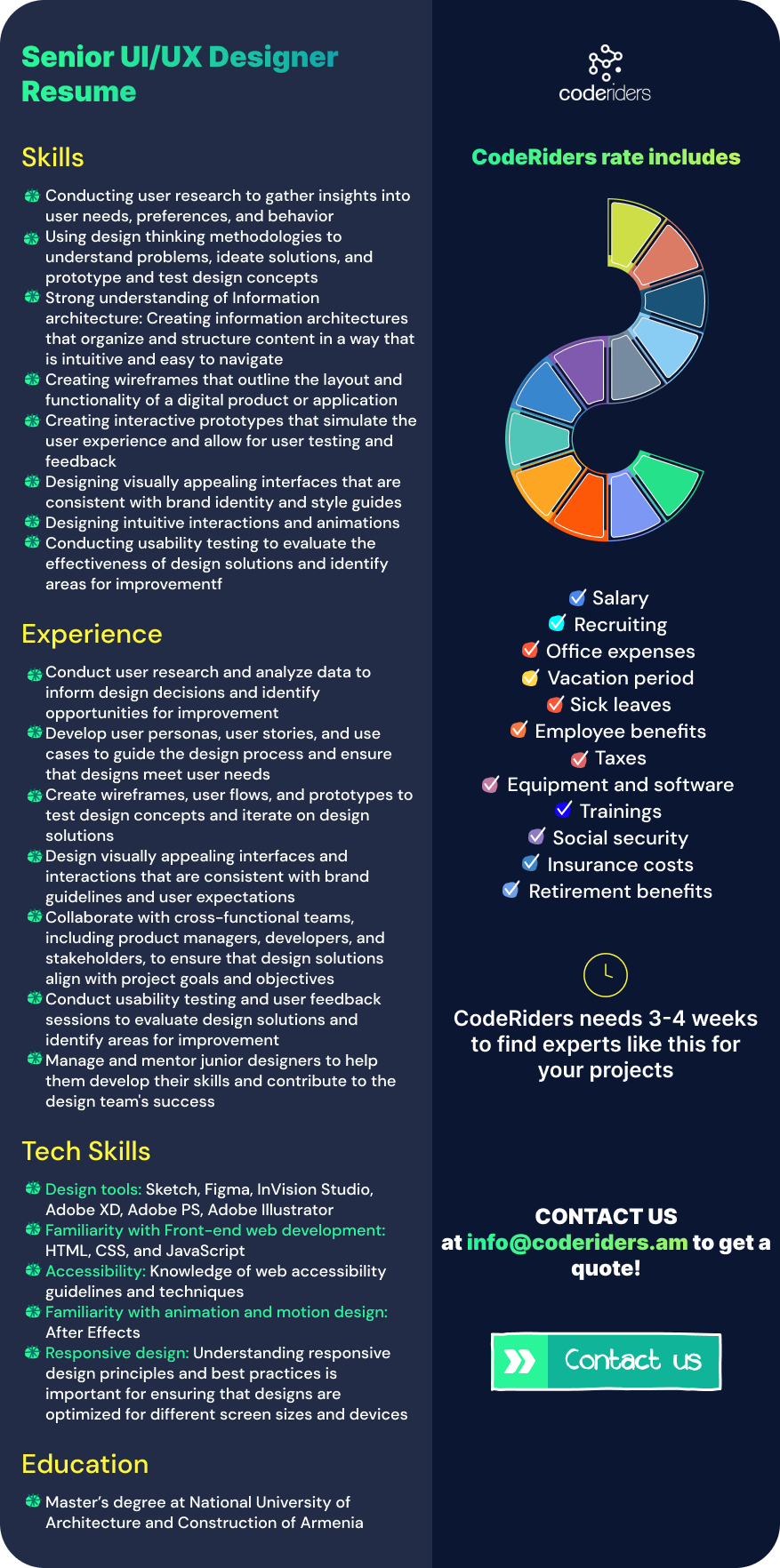 Channels of Finding and Hiring Qualified UI/UX Designers
There are 4 main channels for hiring UI/UX designers. These methods are unique, and the effectiveness of each highly depends on a specific company's work culture, structure, and business needs.
Freelance UI/UX designers
Very often, we see startups hire freelance UI/UX designers, and this has several reasons. First, hiring freelance UI/UX designers is affordable and accessible. Companies sign up on famous freelance platforms and connect with the appropriate professionals. Hiring freelancers is especially beneficial if you have very short and simple projects without many responsibilities. However, you should take into consideration that assuring all resources are on the same page is challenging. Besides, hiring freelancers may be challenging due to the lack of supervision too.
Software outsourcing companies
Hiring UI/UX designers from software outsourcing companies is the gold medium between working with freelancers and in-house professionals. The thing is, if you have a complex and long-term project, it is risky to hire freelancers. A freelance UI/UX designer can quit at any time, and it is much harder to control freelancers. On the flip side, we have trustworthy software outsourcing companies who guarantee the quality and compatibility of their employees. You can hire UI/UX designers from software vendors at half of the price and even much more obtainable.
In-house UI/UX designers
If you want complete control over your employees, you should go for in-house UI/UX designers. Hiring in-house employees is also better if you want to be in charge of your projects and the people you work with. However, take into consideration that the cost of building an in-house team is high, finding talents is time-consuming, and scaling the team will be expensive and slow.
Recruiting company
Some companies prefer to use 3rd party recruitment agencies to deal with all the tech talent requirement processes. They simply provide their requirements and wait for candidates, basically investing no time and effort in finding and filtering out the most matching candidates.
How Can CodeRiders Help You Hire Qualified UI/UX Designers?
We offer IT professionals

,

including software developers and designers, who have extensive experience working with various companies of different organizational structures, team cultures, nationalities, and industries. Check out our portfolio here.
We are responsible for our employees, including UI/UX designers' work quality. We invest in the constant update of our UI/UX designers' skills and education. Our designers enroll in professional courses, as well as English language courses.
Our UI/UX designers and software developers work effectively together like a successful team, which is extremely important, and is a pain point when hiring freelancers who do not know each other.
CodeRiders operates in Armenia, which means our clients save a significant amount of money on software development, management, and UI/UX design services.
You pay only for the core work done. Other expenses are covered by CodeRiders, such as workspace, utility fees, employee bonuses, and investments in employee growth.
CodeRiders also offers business analysis and project management services

,

which means we can help you with specifying and finalizing your project goals, product features, and after all project management if you do not have a clear picture of your idea in your mind.
CodeRiders works with various software development methodologies, including the two most popular ones currently in the market: Waterfall and Agile.
CodeRiders is flexible enough to adjust its services and project management to your specific needs.
You can also benefit from the time difference if you need UI/UX designers to work during non-working hours. Hiring in-house UI/UX professionals or other employees to work during non-working hours costs additional expenses, unlike outsourcing.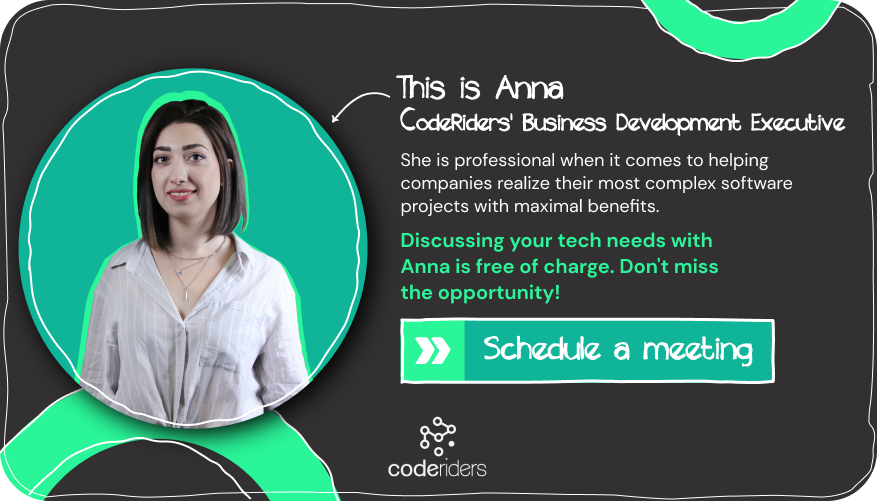 In conclusion, the role of a UI/UX designer is decisive in creating software. No matter how multi-functional and innovative your software solution is, it should be well-designed, mobile, and user-friendly to attract the market. Along with a qualified software development team or dedicated software engineers, finding skilled UI/UX designers is critical for your business.
CodeRiders software development company provides qualified UI/UX designers who have respectful experience working on various complex tech projects.
Having
development
needs?
CodeRiders will address your web and mobile development challenges by creating custom software, helping with outsourcing services, or just consulting on your software development requirements.
Explore services