To help software outsourcing service seekers find a trusted software development company, the dedicated directory of B2B IT service providers, TopDevelopers.co has released the Finest Software Development Companies in November 2021.
The reputed research and analysis platform, acting as a bridge between organizations and IT service providers, has filed up the best software development company updates after a thorough and considerate analysis of the field.
We, at CodeRiders, are proud to be included in their list of trusted software development companies as well. We thank TopDevelopers.co for their consistent recognition of our software development services. Our dedicated team members work hard to get such good reviews from our clients.
According to DDIY, more than 65% of companies outsource when tackling software development projects. Developing custom software for businesses and their related services is one of the most sought-after in the IT industry. It strikes further growth of new offshore software development firms entering the scene. This makes the process of software development company selection harder and more confusing. Finding referrals, trustworthy sources that point to recognized software outsourcing firms is crucial.
At CodeRiders, we make sure our clients are always informed and updated by releasing helpful articles on our blog. Check "Where and How to Find a High-Quality Software Vendor" and other related articles on CodeRiders blog.
About CodeRiders Software Outsourcing Solutions
CodeRiders is an Armenian software development company offering a wide range of software development services. We're a team of IT enthusiasts who believe that "Time is precious and automation should save it".
We offer:
We create your custom website with a responsive design. You can request from the simplest to the most complex features and be sure your software solution will meet the latest trends in the market. Our experienced software engineers and designers are recognized web development professionals by DesignRush and have been doing this job since 2014 efficiently and in the most cost-effective way. Our web development and design services include:
Full-cycle website development,
Responsive web design,
Website migration and integration,
Migration to cloud,
Maintenance and support,
Compliance with SEO standards,
Security and upgrades.
You decide your perfect bespoke or tailor-made software while our team authorizes your expectations. Send us your scope of work, and we will get back to you with a free consultation and project estimates. Our experts have also made a brand new guide to writing a clear-cut SOW document with a real-life sample. Download it free of charge.
Our experts take your project from discovery to ongoing post-launch enhancement. It does not matter which stage you are in your software development lifecycle (SDLC). As a recognized enterprise software development company by DesignRush, we make sure you are on the right track with your business idea.
Our custom software development services include:
Product development,
Project recovery,
Software upgrade,
Enterprise solutions development.
Software outsourcing and IT consulting
As a trusted software development company, we combine international standards in offshore software development with affordable prices, free IT consulting, and outsourcing services. Our team appreciates high-standard communication between the software vendor and the owner throughout the software outsourcing lifecycle (SDLC). We are recognized as The Best Software Development Partner by EuroAsian Startup Awards.
A typical full-cycle offshore software development process with CodeRiders starts with identifying the issue, setting up a free consultation, finding the solution, starting the actual software development and implementation processes, and ending up with maintenance and support upon the client's request.
At CodeRiders, we build competitive mobile applications with responsive design. We offer custom cross-platform or hybrid mobile app development for both IOS and Android users using Ionic and Flutter technologies. Our mobile apps are secure, scalable, and sustainable in whatever environment they are hosted. Our software outsourcing team is among the top mobile app development companies worldwide by many reliable software directories.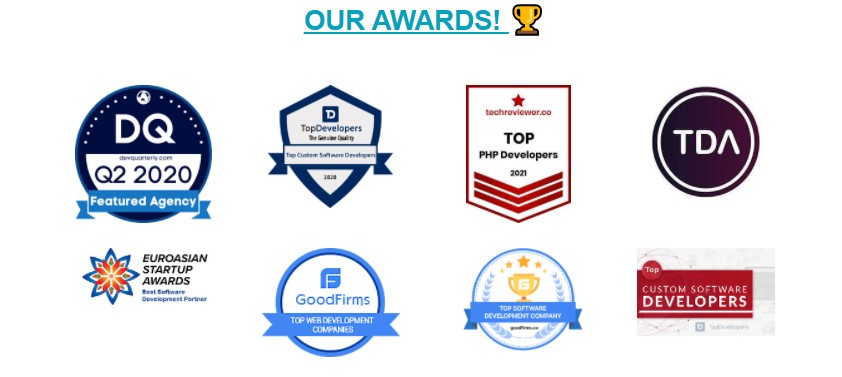 Our mobile app development services include:
Business requirements analysis,
Cross-platform or hybrid mobile application development,
Wireframing and custom design architecture,
UI/UX design and testing,
Extensive integration,
Rigorous QA testing,
Project management with a professional development process,
Assistance with getting your app in the Play Store, App World, and marketplace.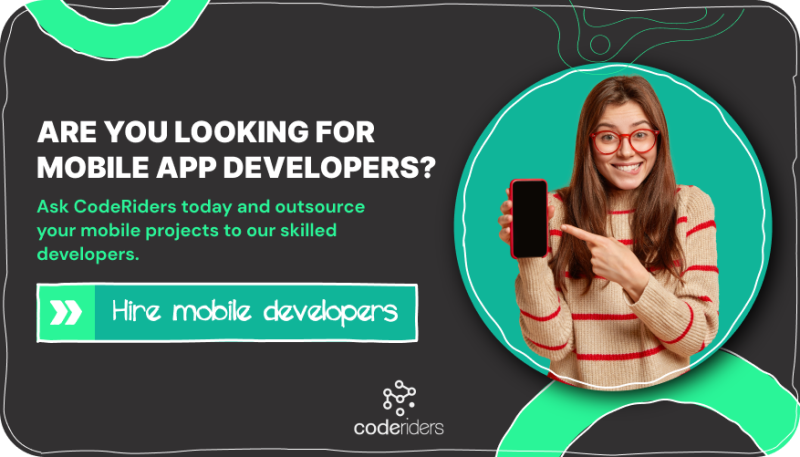 Why Should You Outsource Your Software Development Needs To CodeRiders?
We are an Armenian software outsourcing firm that is a recognized software outsourcing destination attracting more and more investors.
Our software development services are cost-effective. Due to low taxes and special state sponsorship, CodeRiders combines high-quality software outsourcing services with affordable prices. We take care of the constant evolvement of our software engineers in the meantime maintaining affordable software services.
CodeRiders software development company was initially established as a software development school. The school had become among the most famous software development schools in Armenia, with more than 800 alumni. Our software development team was established a year later out of the best students. This is the secret of our literate communication with clients and ability to provide software engineers with various tech stacks upon request.
We are fluent in English. At CodeRiders, you are flexible enough to choose among various software development engagement models. In any case, you are welcome to keep in touch with our software developers directly due to their English language fluency and cooperation skills.
We Solve Software Challenges
Do you face troubles with your software maintenance?
CodeRiders optimizes the product architecture, saving software maintenance costs for our clients.
Are you running out of budget during the significant stage of your software development lifecycle (SDLC)?
We offer a fixed-price software development engagement model that targets those clients who know exactly what they want out of the project and require concrete estimates. Send us your SOW document or technical documentation and expect a clear cost estimate from CodeRiders that will not be changed during the software development process.
Need help in filling up an easy and simple SOW document for your software outsourcing vendor? Make sure to check our brand new guide to writing a candid SOW document with a real-life example.
Is your software development running out of time?
We had customers who turned to our software development services after a failed cooperation with another software vendor. They had tight deadlines and a specific budget but too little work done. We have ready-made building blocks which help us save time on developing software from scratch. We also have a large talent pool to accelerate and facilitate your project.
Is your software less competitive and beneficial in the market?
We have an experienced IT consulting team that gives advice on the most initial features of your product that will provide a respectable return on investments at first.
Do you have challenges in holding effective and productive communication with your software vendor?
At CodeRiders, we offer the most tested software development pricing models starting from the T&M, fixed price, and team augmentation models to your best hybrid model. We make sure you are comfortable enough in business communication. We hold on to constant communications via business management platforms such as Slack, Jira, or Trello. We provide daily reports and calls through Microsoft teams, Google Meet, Zoom, etc.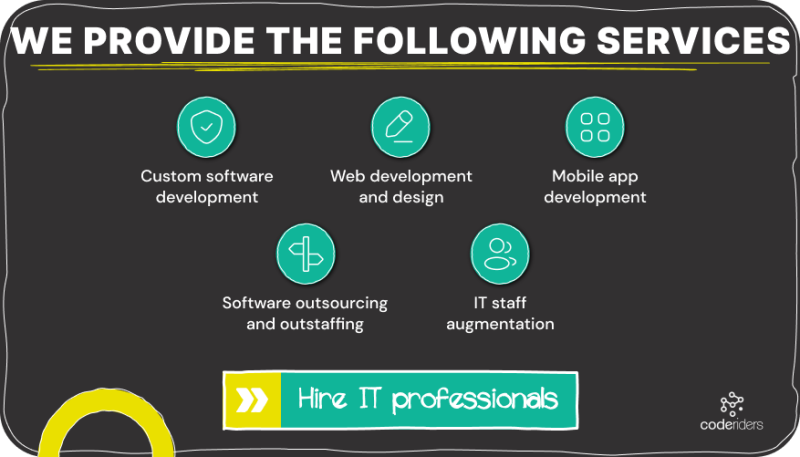 Our Tech Stack
CodeRiders offers the leading and most popular software development technologies in the IT outsourcing market and is open to expanding with new tech stacks. Currently, we are working with the following technologies and actively hiring new employees with tech skills.
Back-end development technologies
PHP, Laravel framework,
Node.js, React.js, Express, Socket.io,
RESTful API, LinkedIn API, Facebook API, Twitter API, AWS,
Front-end development technologies
JavaScript, jQuery, Vue.js, Angular 2+,
Ionic/Flutter, Dart,
HTML5, CSS3,
Bootstrap 3,4,
React, React Native.
Databases
MySQL,
MongoDB,
PostreSQL,
SQLite.
Other technologies
Vagrant, Docker, Redis, Memcached, Apache, Linux, WAMP, LAMP, MEAN stack, SVN/Git.
Recently we have also been recognized among the top PHP software development companies in the world by TechReviewer.co. Check our latest article about this topic:
Our software engineers also share their experience in specific tech stacks. Check our senior PHP developer, Albert Ispiryan's interview about "The Importance of PHP Among Web Applications" and our senior software developer Babken Darbinyan's interview about SQL development.

How much does it cost to work with Armenian software outsourcing companies?
As Armenia's tech sector is still undergoing constant changes and developments, the industry rates are still quite low compared to service quality. So, unlike other well-known countries that pay lucrative wages to their developers, in Armenia, the developer salaries are much lower.
For instance, you can hire high-quality PHP developers from trusted Armenian software development companies with an annual wage of $38.000 to $59.000 without additional expenditure.
To sum up, as a trusted software outsourcing company, we are always honored and thrilled to appear on the charts of the world's leading software development directories and awards. Team CodeRiders is thankful for constant recognition and is more motivated to expand its tech stack and software development services.
Having
development
needs?
CodeRiders will address your web and mobile development challenges by creating custom software, helping with outsourcing services, or just consulting on your software development requirements.
Explore services