In a few days, we will officially close out the year 2022. Huh, what a year!
It has already become a tradition for us at CodeRiders to summarize the year by speaking about the achievements we had. By recalling the good and the best, we remind ourselves that we are on the right path and have strategized our work in the right direction. It also helps us have our mission and vision in our minds and always follow them to reach our goals.
We wrote down 15 of our achievements. Let's dive into them.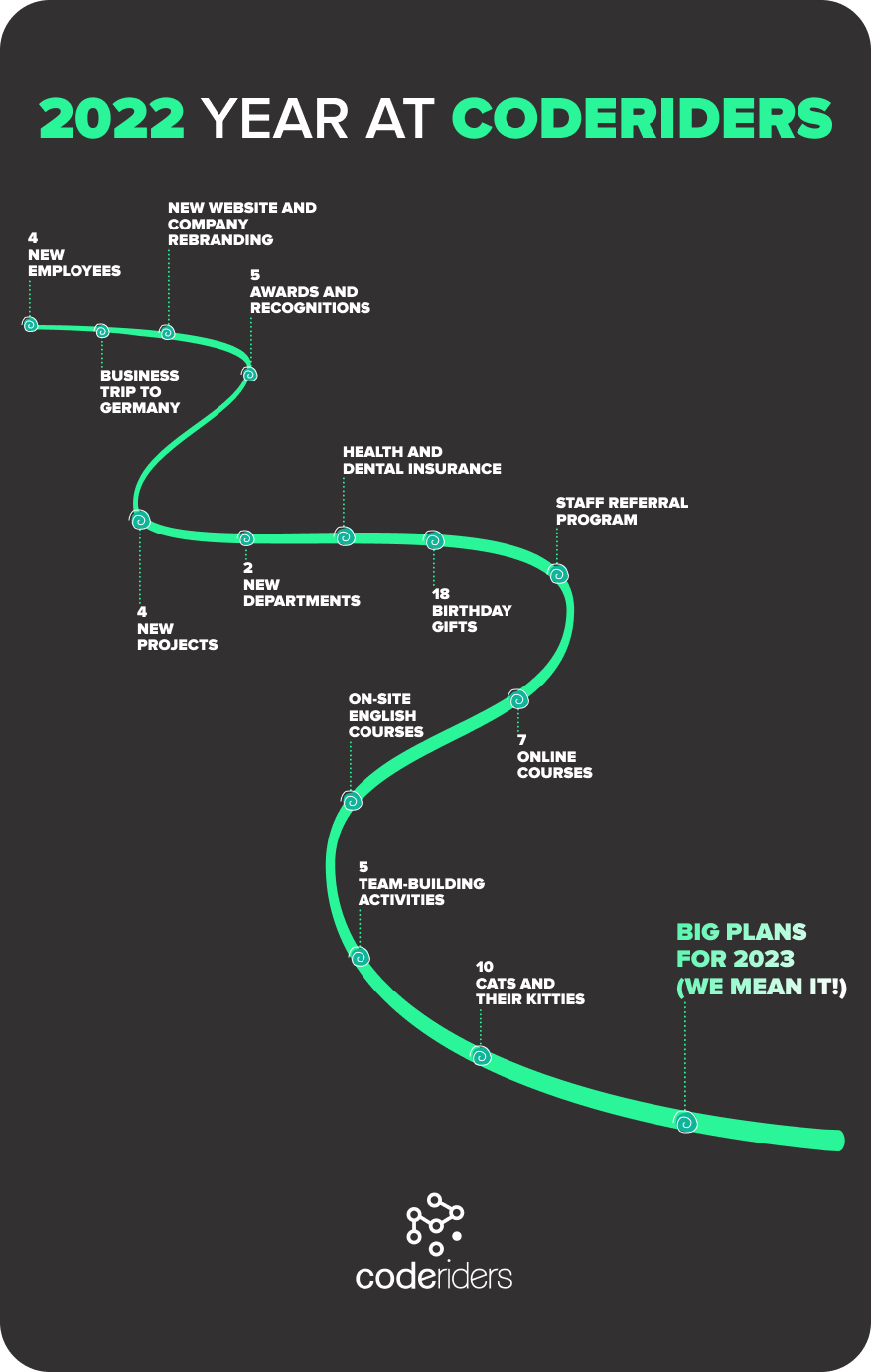 1. Welcomed 4 New Employees
CodeRiders began the year by hiring new employees in February. Today our team consists of 18 people, and we are still in the process of expanding our team. We have 2 new developers on our team (a Vue.js developer and a React developer), a UI/UX designer, and a technical recruiter.
Adding team members is not just a mere action at CodeRiders. We pay great attention to the hiring and interviewing process so we can have only top-notch professionals working with us. Team spirit is one of the values at CodeRiders. So while choosing between the candidates, we pay attention to not only their professionalism and technical skills but also their soft skills and communication.
This is why our clients at CodeRiders always mention that working with our team is as easy as 1, 2, 3. They know how to communicate with the project managers and team leads effectively and smoothly, along with working on their tech projects.
2. Successfully Completed 2 Projects
We like to stress that we at CodeRiders love long-term projects and are proud to have most of our projects running for quite a long time. It generally means two things:
The clients are happy with our software development services and want to continue working with us.
Both our business development and IT teams worked and communicated efficiently with the clients.
This is why we may mention only a few projects during the year-end summary. Our projects are actually mostly ongoing.
Nevertheless, this year we completed one long-term project and one small project. Both were completed successfully, delivering the end product to the client and their users.
One project is about software development on an investment website. The client is from Germany. We provided one frontend developer from our side to create new pages and write automated tests for them by using Vue.js. We used the Scrum methodology for the development process, which is a set of rules or practices to improve the software development process.
The other project is about creating a plugin for Figma that significantly eases the work of UI/UX designers or anyone who uses Figma. The client is from Italy. We provided one React developer and a project manager to build the plugin from scratch and help Figma users to translate their design into multiple languages without leaving Figma.
This cooperation was a success, so the client carried on with other projects as well. Now, our partnership is ongoing, and we are working on other projects, providing custom API development services for the translation industry.
By the way, we interviewed our React developer who was working on the Figma project. You can learn more about the project and the software outsourcing process directly from the software developer.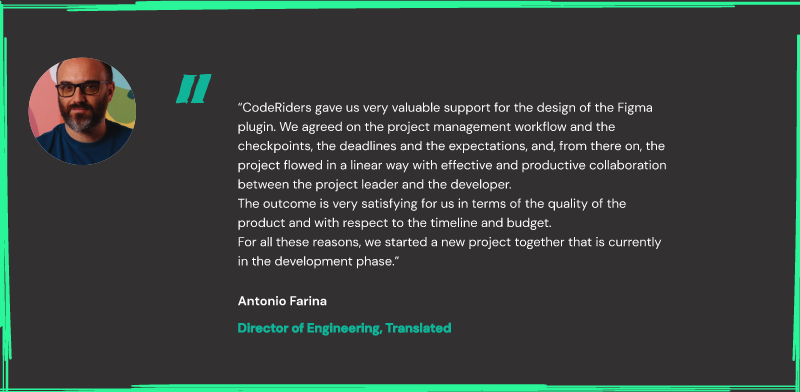 3. Gave a Start to 4 New Projects
Having 4 new ongoing projects is one of the top achievements of this year for CodeRiders. Cooperating with one of our clients from Australia, we gave a start to 2 new projects with them, providing 5 software developers and one team lead. One of these projects is about building a B2B sales platform from scratch, working on the architecture, front-end, and back-end. The other project is about creating a digital marketplace for crypto and non-fungible tokens (NFTs). Through this platform, users can buy, sell, and discover exclusive digital items.
The 3rd new project is with the same client from Italy we mentioned earlier. However, this time the project is linked to GitHub rather than Figma. Our software developer is building a GitHub plugin from scratch to translate files in it.
Finally, yet importantly, we also provided one of our back-end software developers to work on a sports club management platform. The platform is for sports administrators, leagues, and governing bodies in sports clubs.
4. Business Trip to Hannover, Germany
This year was significant for us in terms of business trips and off-site events abroad. We participated in the Hannover Messe 2022 trade fair in Germany and met a huge number of foreign companies and business representatives. We spoke about CodeRiders' services and solutions and made new business connections with European companies.
Although we have had an experience in participating in international awards and exhibitions, such as EASA (EuroAsian Startup Awards) in Georgia, where we also were awarded as "The Best Regional Software Development Partner", the Hannover Messe was a unique experience for us. This was the first time the CodeRiders team participated in such a large trade fair, with approximately 6.500 exhibitors and 250.000 visitors from all over the world. Hannover Messe trade fair connects the leaders and representatives from the world's most promising companies to network about top-notch solutions in computer science. The key themes of the trade show are digitalization and sustainability.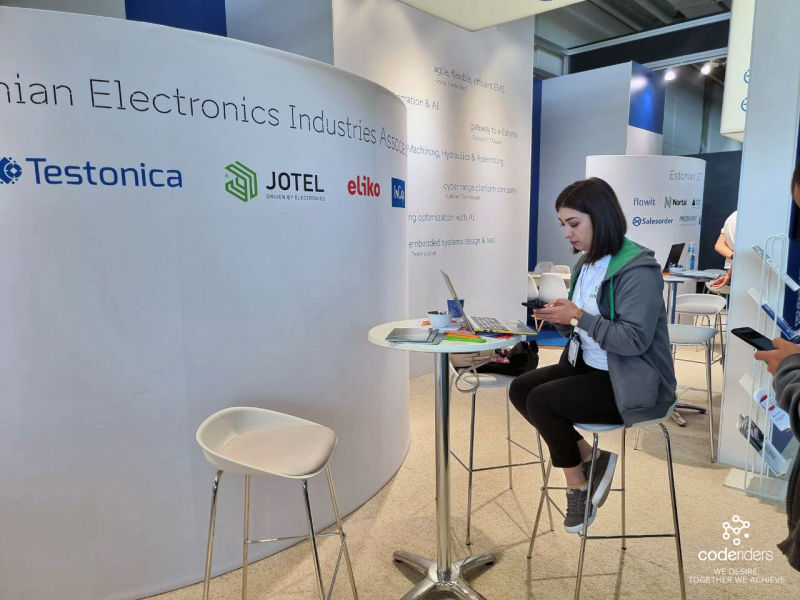 5. New Website and Company Rebranding
At the end of this year, we launched our new website with a brand-new design, concept, and strategy. It is safe to say, that our website needed a massive augment to be on the same page with CodeRiders' enormous progress as a reliable software development company. The last time we made such big changes to the website and design was 4 years ago. Now, we felt that it was time for something new and refreshing.
These 4 years have been marked by ups and downs (mostly upsJ), and we have changed a lot during this period. We could not miss the chance of implementing those changes in our design and branding as well.
Today, our company concept is defined as bold and communicative, professional and friendly. We also added a "Whitepapers" section on the website to help our visitors with all-in-one guides and useful information. We already have a white paper published about the scope of work (SOW), which you can download below. Other white papers about software outsourcing and agile methodologies will soon be published as well.
Our new website also has a "Careers" page, which the candidates can use to apply for becoming a coderider.
6. Seven Awards and Recognitions from Popular IT Directories
Receiving appreciation words is always satisfying and a motivation to move forward. Whether it is positive feedback from the clients or recognition from popular IT directories, we get super excited each time we receive such awards.
This year we received 7 recognitions from TechBehemoths, TechReviewer.co, Online.Degree.com, TDA (Top Digital Agency), TopDevelopers, and DesignRush.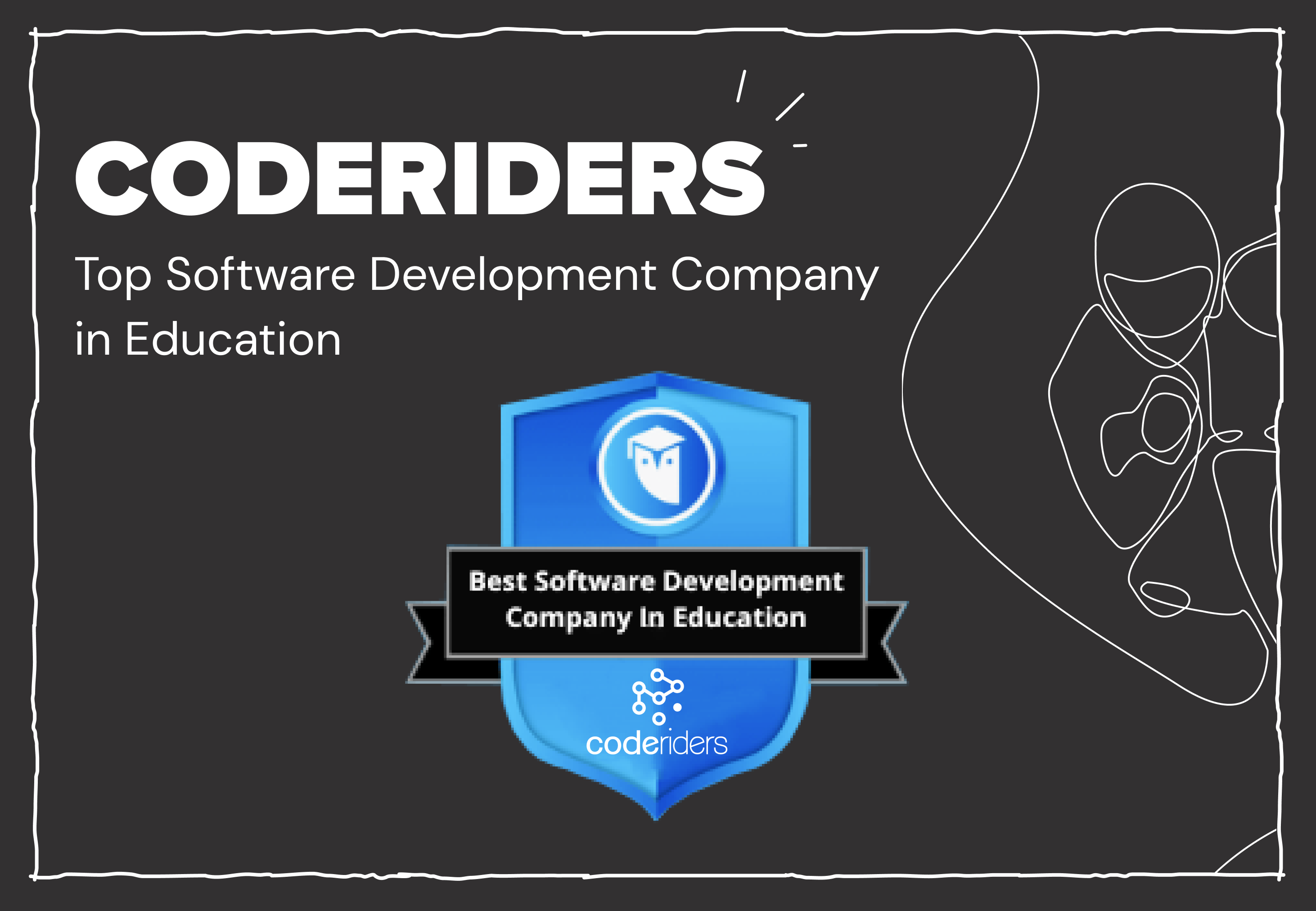 7. Two New Departments
Following the growth of our team and company, we also established 2 new departments, besides the software development and the business development teams. Now, we also have clearly defined 2 new roles for the design and the HR departments. If in the past, we used to outsource these services and have contract-based employees, now we have full-time employees within our team.
The addition of design skills changed our approach to software outsourcing as well. Now we are always suggesting design services as well together with software development. However, the final decision is up to the clients whether they want UI/UX design services too or simply software development.
Following our software company's rapid growth, the number of companies reaching out and requesting software development services from CodeRiders grows simultaneously. In the past, our business development team was comfortable enough to deal with recruitment processes, however, now it is more productive to have a separate employee to deal with it. The addition of the HR and recruiting skills opened up new horizons for us in terms of team enlargement. Now we also actively position ourselves as an outstaffing company as we can find and hire the needed IT resources quickly and smoothly with the help of our HR specialist.
8. Health and Dental Insurance for Employees
We ensure our employee satisfaction rate is always high. Of course, it depends on several criteria, starting from the management's attitude to the project they are working on. However, company benefits play an important role as well.
This year we updated our company benefits list and added health and dental insurance. Caring about our team's health and helping them with healthcare matters. We encourage them to have annual check-ups and make it a habit for the future.
9. Staff Referral Program
The staff referral program is another thing we added to our company's benefits list. The staff referral program is beneficial both for the employees, as they get rewarded for the best referrals, and also for the company, as we hire the best professionals in the market to work with us. We are proud that we have created a team and an atmosphere that our people advertise within their networks and encourage them to join us.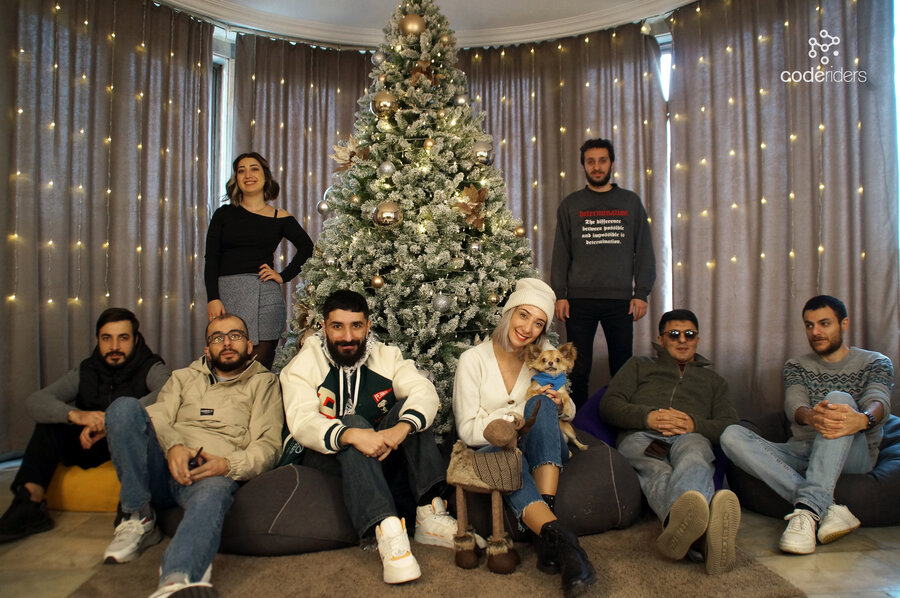 10. 18 Birthday Gifts
Birthday gifts became a tradition at CodeRiders. We celebrate our employees' birthdays and make their day exciting by gifting presents. Choosing a birthday gift is a ritual we have at the beginning of each month. For us, it is important to gift something that is either necessary or something they would love to have. We pay attention to the hobbies and interests of our employees apart from work, and we believe that having interests outside your job duplicates your productivity and attitude towards work. So, we do not hesitate on spending some time finding things that would genuinely make our employees happy and satisfied. Of course, adding some fun in the gift always makes it much better and more memorable.
This year we celebrated 18 birthdays with cakes, champagne, candles, gifts, and lots of laughter.
11. Seven Online Courses Enrolled
Each year, we enroll our developers in new courses on Udemy. It is a large educational platform, providing courses for different industries, seniorities, languages, etc. We already had 12 courses from previous years. This year we also added 7 more. They are for developers, QA engineers, technical writers, and marketers.
We believe that education should be accessible to everyone. No matter if it is about elementary education, a university degree, or post-university courses like this, we at CodeRiders do our best to provide our employees with new learning materials so they can expand their skill set and use new technologies in their work.
Our employees are also welcome and free to suggest getting new learning materials.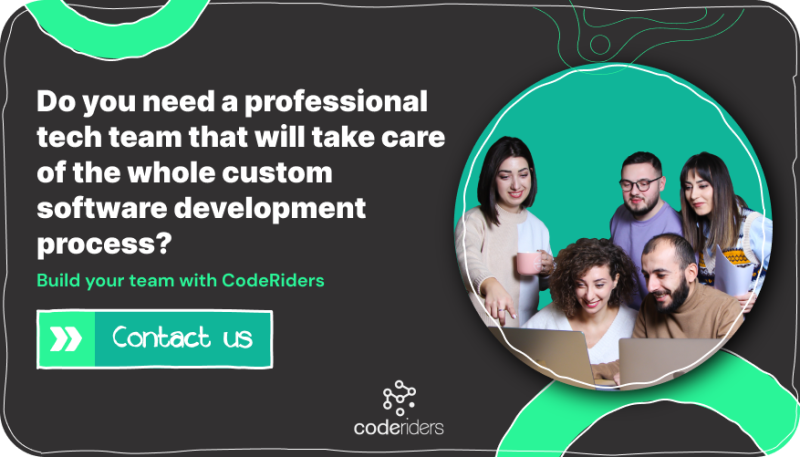 12. On-Site English Courses for Employees
Besides the online courses, this year we also integrated one new approach: provide CodeRiders employees with offline language courses. Because English is our main language for communicating with our partners and clients, we encourage all our team members to improve their English skills.
Therefore, in 2022 we organized and are still having offline English courses in our company office with one of the best language centers in Armenia. Almost everyone at CodeRiders speaks good English; however, some minor improvements are always welcome. This is the reason we hired a teacher to help us with this task.
By the way, at CodeRiders, not only do the business development specialists or project managers speak directly with the clients, but also the software developers themselves. So, communicating smoothly in English is mandatory at CodeRiders. Having good communication skills is also one of the things that make our clients happy and satisfied. We usually hear this from them when asking for feedback.
13. Five Team-Building Activities in Different Regions of Armenia
Team building events are part of our company culture. We organize them a few times a year to spend more time with the team, to welcome and integrate the new employees into our company culture, and to enjoy the after-work time together.
In 2022, we organized 5 such activities in different regions of Armenia. We explored Northern Armenia this time. We visited the mountainous city of Dilijan, the nature-rich city of Stepanavan, and the 2nd largest city of Gyumri. We also organized 2 pool days in summer near the city of Yerevan.
In addition to these activities, we also have one new board game in the office, the foosball table. It was a fun addition to the number of games we already have in our office: billiard, PlayStation, Jenga, chess, and other board games. A few minutes of detaching from the crazy schedule during tough working days is one of the best ways to stay productive during the whole day. We know this and make sure this strategy is used in our team as well.
If you have been following our social media profiles, you may probably know that our team members are also good friends and enjoy spending time together besides team-building activities. Some of our team members also organize their holidays together. And like that, this year some of our employees spent their vacation together in Tbilisi, Georgia, while other team members spent it together in Madrid and Barcelona, Spain.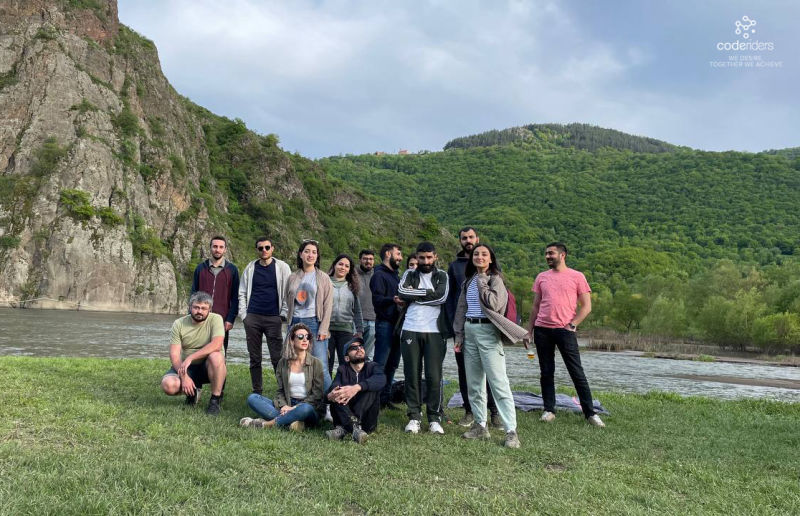 14. Adopted and Took Care of Around 10 Cats and Their Kitties
CodeRiders is an animal-friendly workplace. We adopted a dog last year and took care of him. This year we have around 10 cats and kitties. We named each of them and care about them as we would with our own pets. They are part of our company atmosphere. Every time we interview our candidates, the question about being animal-friendly is always asked. We believe that rescuing animal lives and behaving kindly towards them is as important as other soft skills our team should have.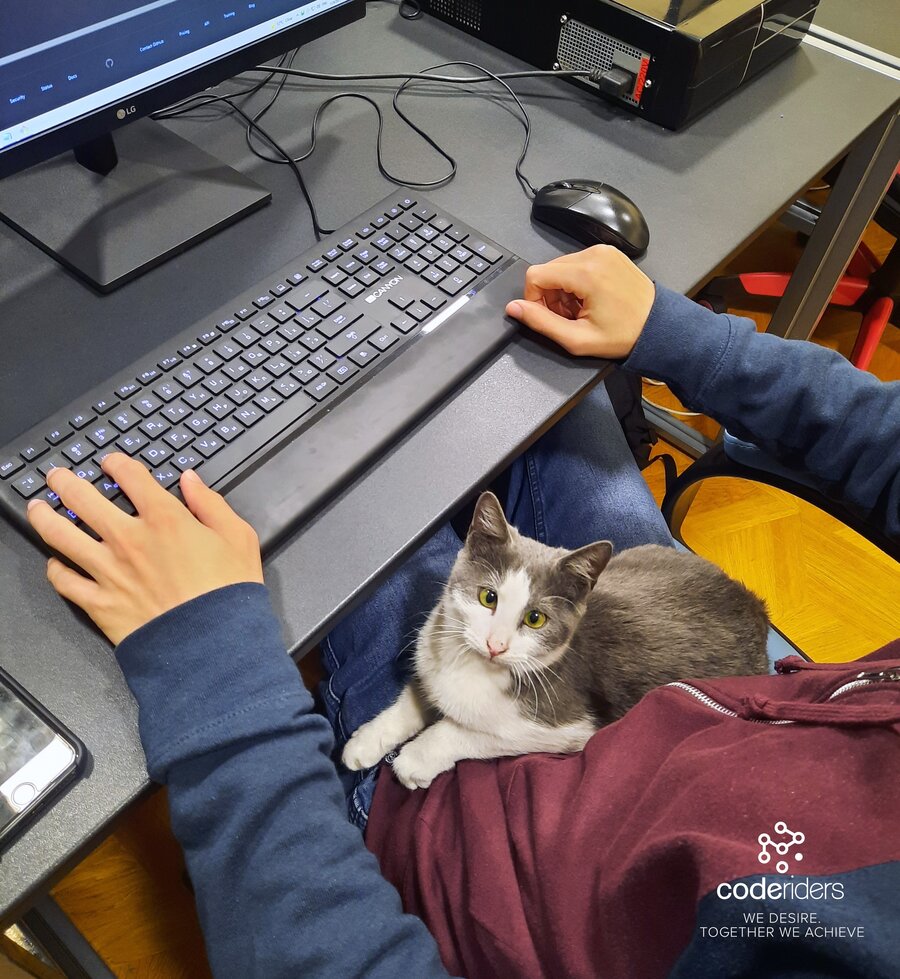 15. Big plans for 2023 (we mean it!)
2022 was indeed a fantastic business year for the software company, CodeRiders and our team. All the achievements we have had are not only the result of the hard work of our team but also the motivation and belief in our company's vision.
We already planned major changes for the year 2023 and can hardly wait to go into more detail and announce the big news we already have. Since it is still going through some processes, we promise to tell you about it once everything is crystal clear and ready.
2023 is going to be bigger than expected!
To unforgettable memories and success stories we had... and many more to come.
Happy New Year!
Having
development
needs?
CodeRiders will address your web and mobile development challenges by creating custom software, helping with outsourcing services, or just consulting on your software development requirements.
Explore services