Throughout our 9 years of experience as a software development company, we have met a significant number of clients who came up with an excellent business idea but did not know how to proceed with it. The initial purpose is obvious:
Build custom software that will be innovative and revolutionary in their field of operation and will interest the public.
Build custom software for private use to facilitate and accelerate various draining manual tasks.
Build a web or mobile application for online business purposes such as e-commerce, retail and wholesale applications, transportation, and the alike.
Each of these business ideas appears to be a great plan; however, a significant number of business owners or C-level employees require clarification on several questions about software outsourcing and the actual software development lifecycle before proceeding with their business plan.
As a custom software development company, we answer these frequently asked questions (FAQs) about software outsourcing for potential clients daily. So, we have decided to write an article that includes the most common questions and answers in the software outsourcing industry.
Continue reading this guide to learn more about offshore software development before turning to your possible software vendor. Read more about software outsourcing, specific industries, and ready-made software solutions on the CodeRiders' blog, or contact our business development team first hand.
Question #1
How can I get near-to-precise cost and time estimates for my software project?
Software development businesses recognize that their potential clients want complete control over their money, the ability to monitor risks and compute the most precise return on investment to justify their investments. Consider these two crucial points before requesting a software project estimate:
Be clear about your requirements and the end-product before turning to the software vendor. To get, you must first give. You should provide relevant information to your software vendor if you want exact quotes for your software development project. Estimating time and cost is simple if the client is well aware of your requirements. The client provides the appropriate technical documentation or an SOW paper; the software vendor thoroughly examines these papers and comes up with either comments and questions or time and cost estimates. Check out CodeRiders guide to "How to Write a Candid SOW Document with a real-life sample". Download it free of charge below.
Don't demand near-to-accurate software development service estimates if you do not know your end product. Clients may request a fixed price model for their project even if they are unsure of what they require. It is unthinkable. A skilled and professional offshore software development business would never give you a quote without first discussing your entire set of needs. In such cases, qualified software vendors usually offer hourly, weekly, or monthly-based pricing models. It is beneficial if the client is simultaneously exploring and testing the functions of its product before the official release.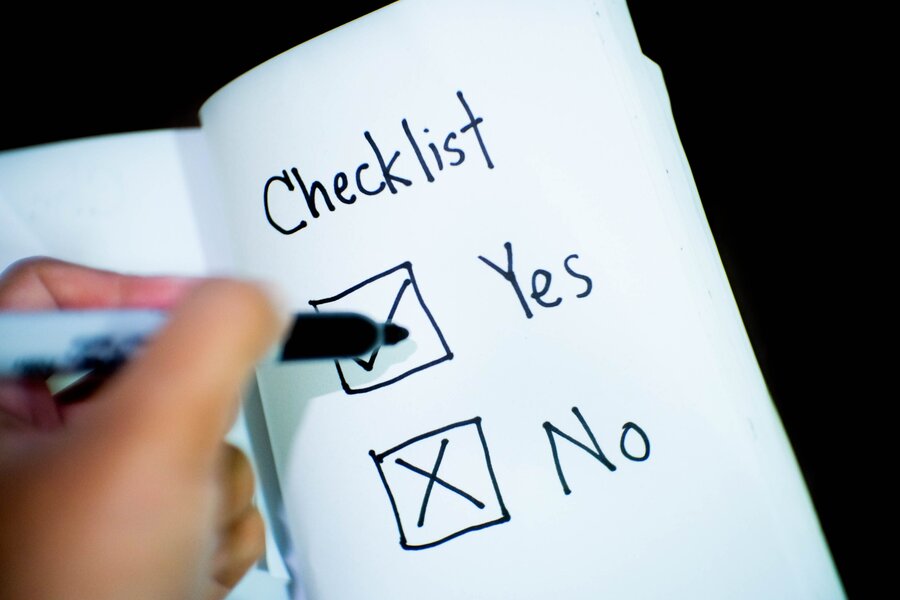 Question #2
What do I need to know before contacting software development teams?
You will give life to your most complex project if you know your initial goal. It does not matter if you have at hand all of the documentation of your project or prefer coming up with your ideal software solution throughout the software development lifecycle (SDLC); you still need to have a clear picture of your final purpose.
Your project will likely transform the way throughout the software development process, but the original goal of your product should remain unchanged. Do a lot of brainstorming, discuss your idea with your colleagues or partners, draw your business plan or anything that will define your ultimate goal before contacting your potential software vendor. You can rely on the experienced team of business analysts of your software company to uncover the bigger picture of your project success, yet you should be clear about what you expect from this collaboration. If you have any doubts, your software partner will evaluate the viability of your project and assist you in coming up with more details.
Other important things to consider before reaching out to a software development company include:
Highlighting the main functions of your software,
Deciding on the basic design of your software,
Mentioning the approximate time of release (if there are deadlines):
Indicating software outsourcing cost limitations (if any):
Question #3
Who is responsible for the client-software vendor communication process?
This question highly depends on the expectations of the client. At CodeRiders, we have no problem providing experienced project managers or software engineers who communicate effectively. Software engineers only report their work and collaborate with the client to determine which features are required and how to achieve the desired result. Project managers are in charge of the entire software development and implementation process.
Although, as a recognized software development partner, we go above and beyond if the project requires additional assistance, it is recommended that you clarify the employees you need before beginning the software development and implementation process.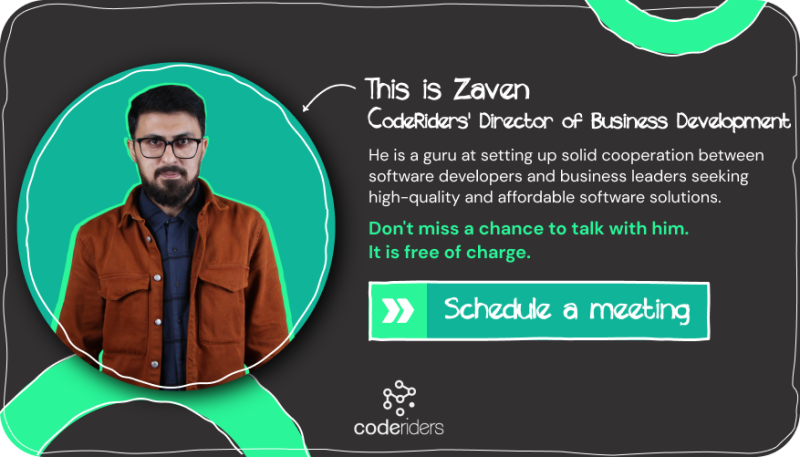 Question #4
Will you ensure the privacy and security of my project/product? Should we sign an NDA? How will we handle intellectual property (IP) rights?
Signing an NDA with your software development partner is required if you are concerned about securing your trade secrets, keeping the project secret before release, or protecting other sensitive information. There are two kinds of NDAs:
Unilateral: In this case, only one party aggress to protect the proprietary information of the other one.
Mutual: Both parties (the client and software vendor) agree to protect the information of each other.
Unilateral NDAs are typically the most common because it is the client who shares sensitive information with the software vendor and is frequently concerned with intellectual property rights. Qualified software development firms have no reservations about signing such documents, but they are not thrilled about it. The reason is that if the software development project has a signed NDA, the software vendor usually also agrees not to use the project as a case study.
We at CodeRiders, have no problem signing NDAs and ensuring that there is no leak of information in response to client requests. In our portfolio section, only projects that have been agreed upon for public sharing as a software development case study.
Question #5
Why should I choose a remote software development team instead of hiring individual dedicated software engineers?
Hiring in-house software engineers requires much responsibility, resources, and time. Companies often spend a lot of resources on recruitment companies or their in-house employees to hire qualified software developers. In addition, forming an in-house software development team is not all you would have to do. After hiring software engineers, you should prepare the corresponding conditions for productive work, such as a convenient environment and working conditions.
On the other hand, hiring a custom software development company frees you from these steps. The offshore software development company is the one that is responsible for these issues, and your role is to find a qualified software vendor and manage effective software vendor-client communication.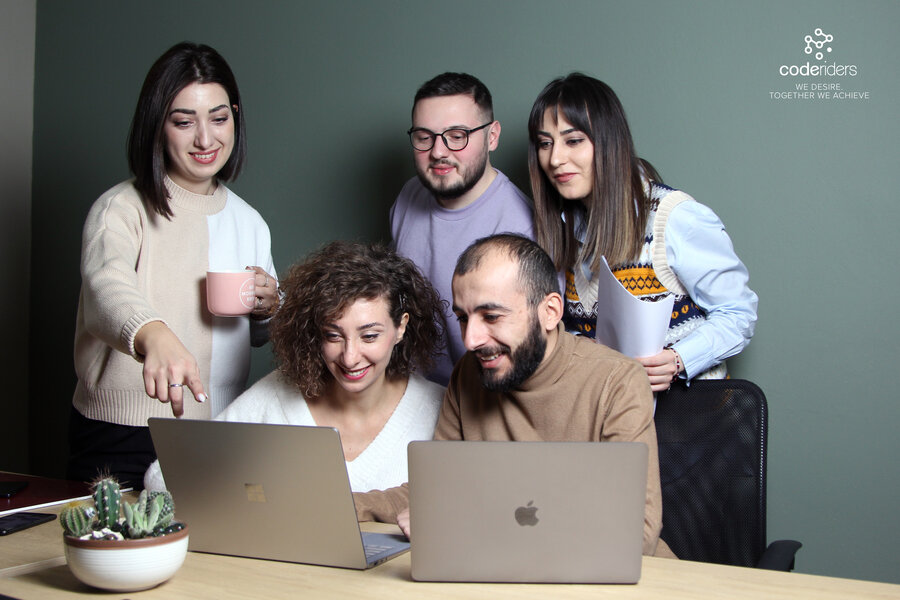 Question #6
Are there any specific engagement models in offshore software development, and how do I know which one is the best fit for my project?
Custom software development - as the name implies - is a highly personalized software development process. The final product is custom-tailored for a specific company. As a result, it stands to reason that the approach to the software development process is also highly dependent on project characteristics. At CodeRiders, we pay special attention to this fact and are open to hybrid software development engagement models. Yet we provide several software development methodologies that are always effective. These are:
Fixed-price software development engagement model: In this case, the client provides precise and concrete software development documentation, an SOW paper, or works closely with the company's technical writer to create one. The software vendor, in its turn, assesses the time and cost scope of the project based on the documentation, and aggress on a fixed price and time frames, that are not a subject of modifications during the software development lifecycle.
Time and material software development engagement model: Time and material is a software development pricing model where the client only pays the software development team or their dedicated software engineers for time and resources spent on the project. This approach is ideal for projects that require a lot of flexibility, do not have set targets, and require a lot of modifications throughout the software development process. The two parties agree on hourly, weekly, or monthly prices and keep track of the working hours. The agile software development methodology is an appropriate solution for the T&M contract. Agile methodology is a flexible project management approach, where we split the project into several phases. It includes constant back and forth collaboration and communication of the stakeholders and ongoing improvement and modification at every stage.
Staff augmentation: Staff augmentation is a software outsourcing model or strategy where stakeholders evaluate and assess the existing staff and resources and determine which additional resources are necessary to complete the software project. It may include hiring dedicated developers or other IT professionals from a qualified custom software development company. The remote professionals become a part of the in-house team and work according to the client's requirements. It is also possible to hire an entire software development team and append it to the in-house team. Staff augmentation is a beneficial solution as, although the client hires software engineers that become part of their team, these employees are still not freelancers. They are under the control of a software development house that ensures their service quality and accelerates and facilitates the software development process whenever there is a problem.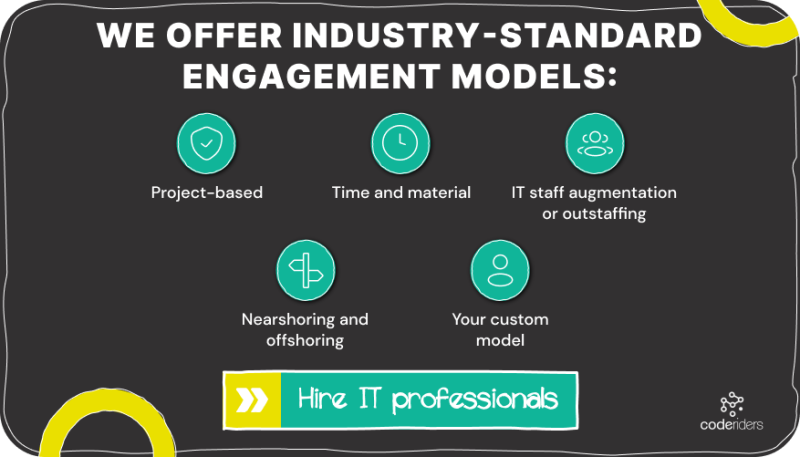 Question #7
I need a full-cycle software development process. How do you manage it?
We have a unique approach to implementing an effective full-cycle software development process that aids in business growth and ROI. CodeRiders software development team can join your project regardless of which stage you are in. Here is how our full-cycle software development process looks:
Issue and consulting: At this point, you contact our team to represent your problem and needs. We talk about your project, ask questions, learn more about your expectations and goals, and then recommend the best software solution for you.
Solution by CodeRiders: Team CodeRiders can provide a wide range of custom software development services, from project concept generation and planning to development, implementation, ongoing support, and software maintenance. At this stage, we go over your technical documentation or form one with combined efforts. Then we define the software development engagement model based on your project characteristics.
Design and software architecture: Once all your requirements and expectations are formed under one document, we create prototypes or mock-ups that visualize your idea and ensure we are on the right track.
Software development: After setting up all this organizational work, we finally start the software development process. We differentiate your primary and secondary features and start working accordingly. We build modules and elements one by one and test each of them.Â
Software Implementation and QA (quality assurance): We recommend the most efficient platform for quick and responsive performance. We keep testing each feature and database to correspond with your technical requirements and design.Â
Maintenance and support: At CodeRiders, we are responsible for our software development services. Thus, we are more than happy to provide software maintenance and support services after the project end, if necessary.Â
Question #8
How much do you charge?
The costs of a specific software development project depend on the following factors:
Project scope (complexity level of the product, number of functions, etc.),
Time spent on the project (for example, if you need the development and implementation of a complex project at the earliest, costs will go high based on the number of developers and related professionals, their labor time, engagement level, etc.),
Technical issues,
Maintenance and support.
Still, this is a vague answer to such a custom question. However, it is the only thing we can say currently without having any other information about your software development project requirements. If you need an estimate for your project, leave us a message, and one of our business development managers will come back to you within 1 working day.
Question #9
Which tech stack do you use and why?
The main tech stack at CodeRiders includes PHP, Laravel, JavaScript, Vue.js, React.js, Node.js, Angular, HTML, CSS, SQL; check out the whole tech stack list. We have several articles on our blog about the pros and cons of these technologies and the reasons why large enterprises continue to use some of these technologies. We also share the success stories of our software developers. Check some of our articles about these topics below:
Question #10
Can I hire additional software engineers or other IT professionals if necessary during the software development process? Why is it preferable to add software engineers from the same software vendor during an ongoing project?
Yes. It is common to add new employees to an ongoing software development process, particularly during the T&M software development engagement model. Clients prefer to hire software engineers or other IT employees from the same software partner because there will be no need to adapt to new employees.
Because these employees are part of the same software development team, clients and software engineers save time and effort when recruiting new team members for their ongoing software development project. Therefore, it is logical that before starting the software development project, clients often clarify if there is a possibility of expanding the software team during the collaboration.
Fortunately, at CodeRiders, we are open to expanding our team. CodeRiders began as a software development school by producing over 800 alumni. Most of them later became successful software engineers. That is probably one of the main reasons that, at CodeRiders, we are flexible enough to offer new team members even if our core staff is busy on other projects. We invite our alumni and easily blend them into our ongoing projects without wasting time and effort. On the other hand, we can also recruit new employees to our team for you.
Question #11
Can we interview software engineers ourselves before starting our software development project?
Yes. In addition to communicating with our business development team and speaking with our CTO, our clients sometimes prefer one-on-one conversations with our software engineers. It is especially typical when a client hires a dedicated team of software engineers. Naturally, they want to ensure that their future employees can adapt to their working style and routine, become a part of their team and communicate effectively and clearly.
Question #12
What is your time zone?
Offshore software development has a lot of benefits; however, before hiring software engineers or working with a software development team, you should consider certain factors. The time difference is one of the most significant. There are several popular software outsourcing destinations, and if you are concerned about the time zone, it is best to search for an ideal software vendor based on country.
CodeRiders operates from Armenia (GMT +4 time zone), and our team works on usual working hours in Armenia. If there is a time zone difference, we usually find matching hours to organize calls or daily meetings. Our time zone is ideal for European and African countries, as well as for the Middle East. Nevertheless, we also have clients from the USA, Canada, Australia, New Zealand, Hong Kong, and other offshore countries.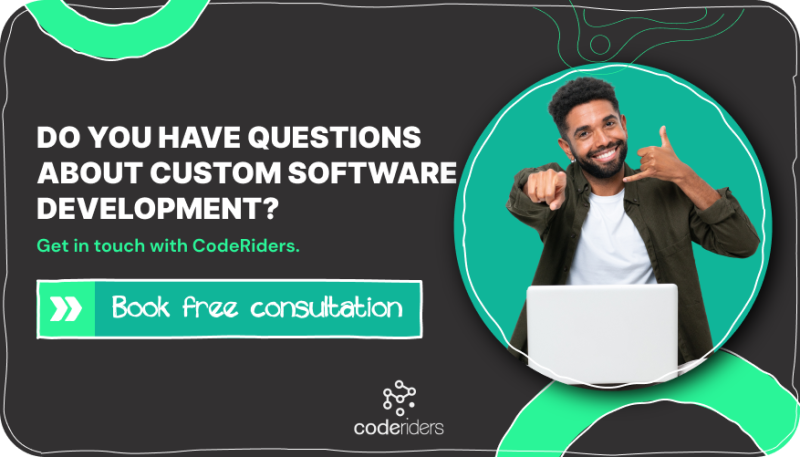 To summarize, software outsourcing is a powerful tool for surviving in a highly competitive business environment. It enables SMEs or startups to enter the market and compete with large enterprises or established businesses due to its low software development cost, time and effort requirements, and other benefits. These questions are proven as the most popular ones among business leaders from various industries, as they guarantee project success. Before starting your first or next software development partnership, make sure to go over the answers to the top frequently asked questions (FAQs) in software outsourcing. Be prepared to handle the most challenging situations in software outsourcing, and come out of them as a complete winner.
Having
development
needs?
CodeRiders will address your web and mobile development challenges by creating custom software, helping with outsourcing services, or just consulting on your software development requirements.
Explore services