This fall Top Digital Agency (TDA,) the home of the world's top 10 digital agencies has ranked CodeRiders among "Top Design and Development Companies" in the world. TDA highlights CodeRiders' outstanding work as a qualified software vendor and contribution to our mission of facilitating people's lives through digitalization.
The following factors play role in ranking CodeRiders as a reputable and trustworthy software vendor for building innovative software solutions.
Software service quality,
Recent projects and their success,
Agencies' expertise and proven reputation in the field,
Agencies' willingness to share helpful knowledge and insights with the TDA community through publishing articles.
Besides speaking about our high-quality software development services and representing our company worldwide, we have also actively been submitting useful articles to the TDA community. Our articles cover the answers to the most common questions that cross business owners' minds before investing in offshore software development. Team CodeRiders also aims at helping companies from various industry fields and markets, become successful in software outsourcing and get the most benefits of working with software vendors.
Check CodeRiders' company profile on TDA. Unleash the latest news about software outsourcing through our articles as well as learn more about our case studies.
At CodeRiders we're dedicated to our mission, "Time is precious, automation should save it". We believe that businesses deserve to get rid of everyday dull manual tasks through digitalization.
CodeRiders' Software Development and Design Services
Team CodeRiders has been building usable and accessible software solutions with the best responsive appearance since 2014.
Before starting as a software development firm in 2014, CodeRiders stepped into the ICT industry as a software development school back in 2013. Our school gave 800+ alumni, 15 out of which later have become our full-time software developers who work with us up to date. This is one of the differentiating factors of CodeRiders among other qualified software development companies in the field.
Besides providing recognized software solutions, we have a strong team spirit and a company culture. We have all started together, and know how to work together as a team. Our company also has a huge talent pool of previous students who currently are qualified software developers. This makes us much flexible in regards to adding more human resources to our projects.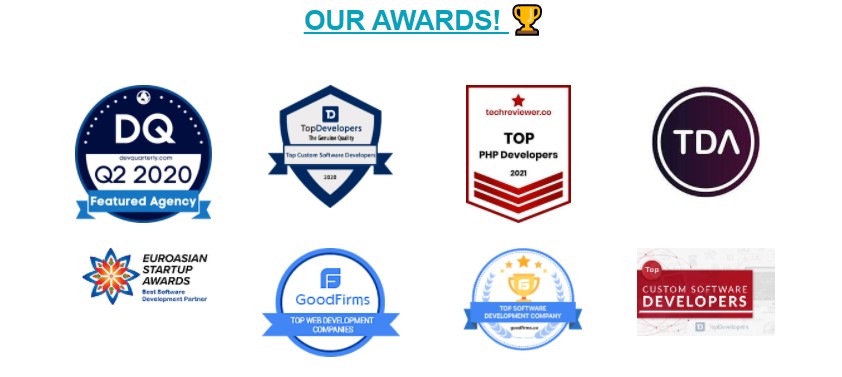 What We Offer
Web Development and Design
We create usable and accessible web solutions with the best responsive appearance. Our efficient and cost-effective web development and design solutions include:
Full-cycle website development: We start building your website from scratch to the end. The complete website development process includes business analysis, design, software development, and implementation, QA services, as well as maintenance and support.
Responsive web design: Besides working on the back-end and front-end functionalities, we also offer responsive web design services which are extremely important nowadays. 50% of web traffic comes from mobile devices, making mobile-friendly design a necessity. CodeRiders' team designs websites for every device - whether it is desktop, computer, laptop, tablet, or smartphone.
Website migration and integration: Team CodeRiders migrates all your data to a new solution and enriches your website with social networks, API integrations, payment solutions, advanced analytics, and more.
Cloud migration services: CodeRiders moves your website to Amazon Web Services (AWS), Microsoft Azure, Google Cloud Platform, and other cloud services to make your website more scalable and secure.
Maintenance and support: CodeRiders is responsible for the maintenance and support of its software solutions. Thus, we are always ready to stick up with you in case of any errors, essential gaps making sure you keep the track of rapid growth.
Compliance with SEO standards: We build SEO-friendly software solutions for your marketing and brand awareness campaigns.
Security and upgrades: At CodeRiders we make sure your data is always protected and various security procedures are being implemented.
Custom Software Development
We build custom software solutions that match up with your company-specific requirements. Our bespoke software solutions are tailored based on our unique client needs. Our business development specialists carefully examine your requirements from the free consultation stage to the ongoing post-launch enhancement stage.
If you need help in filing up a precise SOW document here is a free download for you. Check out our brand new guide to writing a candid SOW document and get a ready-made sample. Download now!
Our custom software development services include:
Product development and project recovery: We work on actualizing your most original ideas or work on refining and rectifying your already-existing projects.
Software upgrade: Our experts work on legacy systems by utilizing modern and up-to-date technologies.
Enterprise solutions development: We have been building various software solutions for facilitating and accelerating the working systems of big enterprises. We have expertise in building CRM and CMS systems, BI, Analytics, E-commerce platforms, and more. Check out more details about ERP software development solutions with our experts.
Mobile App Development
Our mobile app developers work on building your tailor-made application both for Android and IOS users. We use a hybrid (cross-platform) mobile app development methodology to create state-of-the-art applications in the shortest time with affordable prices. Check out the pros and cons of hybrid and native app development.
Outsourcing and IT Consulting
You can hire both the whole team and dedicated individual software developers from CodeRiders. Our dedicated software developers quickly integrate into your in-house team (if you have one) and work closely with your employees to solve complex tech issues remotely. In the meantime, our team of software developers, project managers, QA specialists are capable of providing a full-cycle software development service. We offer full-cycle product development, specific functionality development, and team augmentation. Learn more about CodeRiders' engagement models.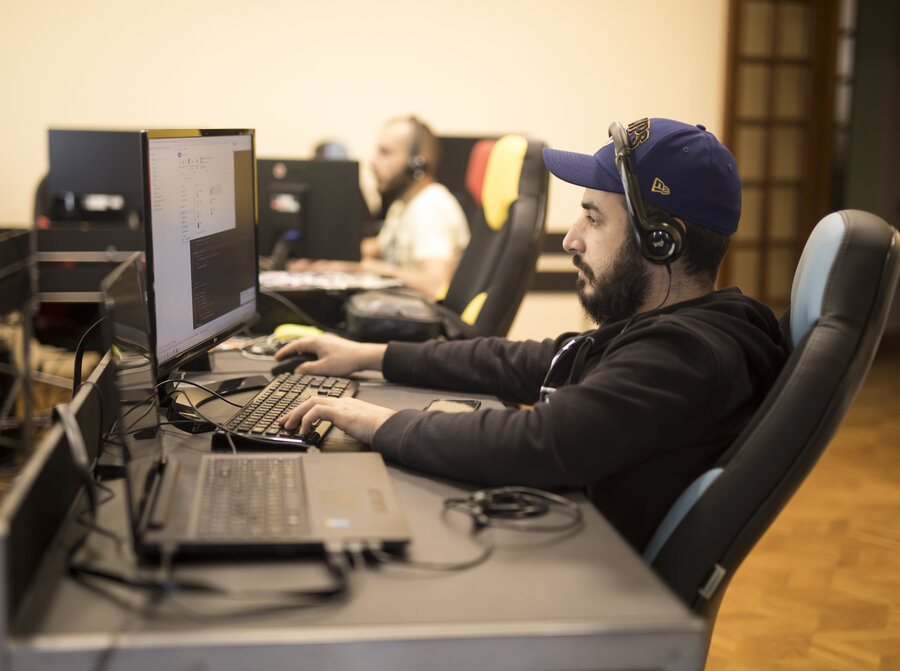 Case Studies We are Proud of
As a software vendor with remarkable expertise in multiple industries, we know market-specific software solutions that actually bring value. Here are some of our successful projects in various industries.
CodeRiders built a custom application for pharmacies, patients, and doctors (with a signed NDA). The initial purpose of this application is to connect pharmacists to doctors and patients. Some major functions in this app include:
Secure registration/log-in feature for doctors, patients, and pharmacists
Uploading the appropriate data for the 3 parties such as:
Doctors' diagnosis, prescriptions, instructions, treatment plan update, and tracking,
Patients' concerns, progress,
Pharmacists' updates on the availability of various drags, prescription checks,
Back and forth communication, chats, video calls between the 3 parties,
Progressive tracking.
E-prescriptions.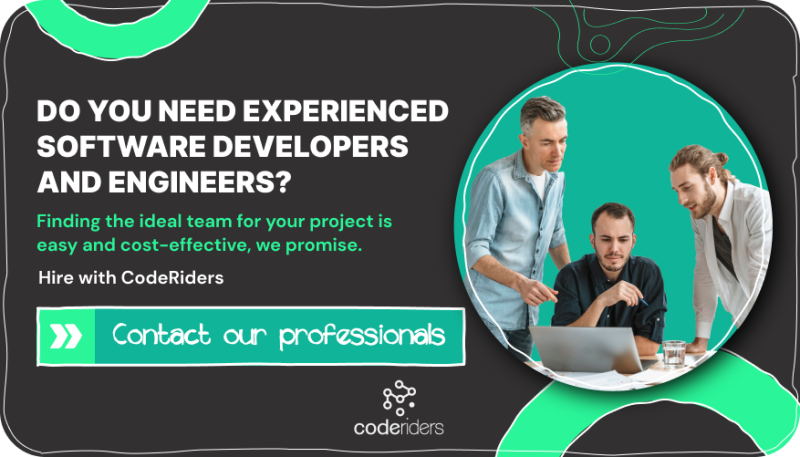 CodeRiders worked on an existing financial system by a Namibian independent technology solutions provider, Binary City, to manage wealth management transactions, transfers, withdrawals, deposits, and the needed enhancements.
CodeRiders' lead developer and a full-time developer had been working on this project for a year. Our main solution included:
Creating transactions
Transferring the balance to other accounts
Various file-type generations such as (XML, CSV, TXT, etc.) for sending requests to banks
Various types of bank response parsing reports generation (Web view, pdf generation, XLSX generation),
Check out more details about Binary City, our tech stack, and the client's review on CodeRiders' software development company's review platform.
In this busy world, it is impossible to imagine our lives without online purchases, orders, and delivery services. Brick and mortar businesses face extensive competition in the digital world. Thus, advanced e-commerce software solutions are being implemented to catch up with growing market trends and service innovations. CodeRiders has reputable expertise in the e-commerce industry. One of our projects is building an online marketplace and gallery, Footmall. Footmall gallery has become a successful link between stores and customers making the purchase easier and more user-friendly.
Check the COO of Footmall, Emil Svenson's feedback about CodeRiders' work, or read the full case study.
"CodeRiders team are enthusiasts that know how to solve both business and technical issues within a limited time and also provide comprehensive end-to-end solutions working together with our own core team. We've worked with them for a few years and the cooperation is still ongoing. My best recommendations."
ERP software solutions are of the highest demand in today's post-COVID busy business world. These solutions ensure big companies' effective working routines and productivity.
Worldsoft Business Suite (WBS) is one of our successful big projects. This is a CRM and an e-mail marketing system for business management. Two software developers from CodeRiders had been working on the back-end functionality and API integrations. The system currently has more than 170k active followers. Check out what the CTO of Worldsoft AG, Laurentiu Nat, says about the partnership with CodeRiders, or read the full cases study here.
"The team has done a great job on the backend functionality of our system, and these several years we have been working together very productively. Being always available for discussions, delivering the results on time, seeking new solutions, and taking care of the product - this is why I highly recommended them!"
As a software outsourcing company, we are beyond happy and excited to have our role in making this world a more convenient and flexible place with the help of authorization and complex software solutions.
We thank all our supporters and well-known organizations that appreciate our hard work and dedication to the improvement of software services and solutions, including TDA for the recognition of our company among top design and development companies in the international ICT industry.
To learn more about our services and solutions contact team CodeRiders.
Having
development
needs?
CodeRiders will address your web and mobile development challenges by creating custom software, helping with outsourcing services, or just consulting on your software development requirements.
Explore services